2015 Colorado Gives Day Success for Ascend Performing Arts

DENVER, CO – The 2015 Colorado Gives Day was a tremendous success thanks to the generous support of the "BK Nation"!  Although final numbers are still being tallied, we are pleased to report we made a good start in reaching our overall fundraising goals for the 2015-2016 fiscal year. 
"A young man in our drum corps came to me after we first showed the video of our 2015 program," said Mark Arnold, Executive Director, Ascend Performing Arts. "He said, 'when we got to that last big hit of our show I couldn't believe it, I started crying, I used to dream about this! I was on that field! I cried when I saw that."
Colorado Gives Day has become the most significant day of the year in the fundraising cycle of Ascend Performing Arts due to the extra incentives involved in the event. It is an annual statewide movement to celebrate and increase philanthropy in Colorado through online giving for the sixth consecutive year. As a participating nonprofit on ColoradoGives.org, Ascend Performing Arts programs, the Blue Knights Drum and Bugle Corps and the Blue Knights World Percussion Ensemble, will benefit from this initiative in many ways.
"For over 50 years our organization has been blessed and sustained by a dedicated community of supporters who believe in the value of these transformational life experiences. It is you–our supporters—who are right there beside us each year making these moments happen — your support is greatly appreciated!" said Mark Arnold.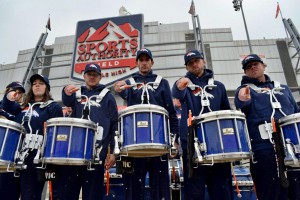 Community First Foundation and First Bank teamed up to put up a $1 Million Incentive Fund–one of the largest giving-day incentive funds in the country.  Every nonprofit receiving a donation on Colorado Gives Day will receive a portion of the incentive fund, which increases the value of every dollar donated.
This incredible outcome was possible because of those who supported both the Blue Knights Drum & Bugle Corps and the Blue Knights Percussion Ensemble. A thank you to the Corporate Board of Directors and many different supporters whose generosity helped–from young and seasoned alumni, family and  supporters–who all  played a pivotal role in helping ensure that this year will be a moment in Ascend history that will define the programs for years to come.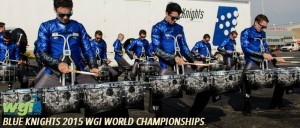 The Ascend "Donor Honor Roll" (below) includes not only alumni, but parents, fans and supporters of the Ascend Programs–-a diverse group of people whose common ground is the wish to see programs like ours not only survive in the years to come, but thrive.
Without the support of our Friends, Ascend Performing Arts would not be able to provide life experiences to transform the members of the Blue Knights Drum & Bugle Corps and the Blue Knights Percussion Ensemble into contributing citizens of the future.
Whether you donated $10 or $10,000, please know that we are very grateful for your support. The Ascend Programs would not continue to exist without the help of people like you. Thank you again for your generosity  to ensure programs like the Blue Knights Drum and Bugle Corps and the Blue Knights World Percussion Ensemble continue to be available for young men and women across the country and around the world.
Thank you for helping elevate life performance!
---
---
---
2015 COLORADO GIVES DAY DONOR HONOR ROLL 
(Listed Alphabetically)

Will Adams and Mike Uhlenkamp
Ken Adams
Gregory Andersen
Sarah Anderson
Kathrine Anderson
Karl and Mary Anderson in honor of Sam Anderson
Kim Angell
The Archibique Family
Mark Arnold
Terri Beaman in honor of Linda Hicks
Veronica Berry in honor of Gary Brattin
Deborah Brickman
Thomas Bronson
Brian and Lindsay Cocos
Completely anonymous in honor of Rhoda Story
Neil Corvino
Nicholas D'Ambrosio
Martha and Ernest D'Ambrosio
Rosalie Danskin in memory of Christopher Danskin
Mike Davis
Patrick Doyle
Rosie Dugan
Anonymous in honor of Keenan Evans
The Essary Family
Mike and Penny Evans in honor of Keenan Evans
Alex Factor
Scott Factor
Sandy Ferry
Jeff Flint
Jennifer Florea
Judy Fredricks
Victor and Thelma Fung
Lori Garcia
Susan Garcia
Ryan G
Anonymous
Goddard Family
Aaron and Tessa Greco
Matthew and Anne Greene
John Griffin
Debbie and Darrell Griffin
Mary Nell Griffin
Bruce and Pam Hallowell
Harry and Denise Helwerda
Jordan Helwerda
Amy and Steve Hemingway
John and Gail Hipke
Mark and Linda Holste
John Horton
Scott Hubbard
Anonymous
Leigh and Ben Huseman
Dorothy Turek-Jackson
The Jamrozek Family
Barbara Jansen in memory of Ray Jansen
Lisa Jorgensen
Kathryn Kane
Jason and Diane Keeling
Pamela Kellen
Doug Kelley
Tony and Kristen King
Lisa Kriederman
Gregory "GM" Kuzma
Anonymous
Linda Langemeier
Iris Lee
George and Lynn Lindstrom
Amy Lueb in honor of ALL alumni!
Scott Lundblad
Dallas Martin
Doug McCarroll
Alyssa and Luke McCollum
McOut Family
Joey M
Amanda Montemayor
Randy and Nancy Morris
Alban Naha
Anonymous
Eugen Nuccio in memory of Pietro J Nuccio
John G Palazzo
Becky Paschke in honor of Rhoda Story and Dinah Owens
Christopher Paschke
Dan Pinkston
Paul Proctor
Anonymous
Riley Family
Deanna Rutkowski
Anonymous
Roman Sanchez
Anonymous
Angelo Sapienza
Leslie Schulter
Mark and Sue Schultz
Trish Schumacher
Jason Shin
Janet and Jerry Shin
Russell Sielaff
Jo Simmons
Joe Smith
Chloe Stabler
Michael Stebick
Baritone Mom
Marion and Roger Stover
Juanita Tate
David and Kristi Taylor in honor of Justin Taylor
Ed and Jackie Terry
Stephanie Hall-Teters
Marilyn Vaughn
Natalie Velasco
Lou Wagner
John and Bette Waltrip
Kelly Waltrip
Scott Weidner in memory of Rebecca (Becky) Yarberry
Tom Weidner
Moss and Mari Welch
Bruce and Deanna Weston
Joanne and Steve Wille
Robin and Gary Williams
Devon and Grayce Wilson
Gary Wooley
Rochelle Wright
Richard Zabukovic
And thank you also to our 10 completely anonymous donors!
---
Scott's Challenge For Blue Knights World Percussion Ensemble 
Mark Arnold
Rosalie Danskin
Mike Davis
Rosie Dugan
Penny and Mike Evans
Jennifer Florea
Debbie and Darrell Griffin
Jamrozek Family
Jason and Diane Keeling
Lisa Jorgensen
Gregory GM Kuzma
Scott Lundblad
Alyssa and Luke McCollum
Joey M
Anonymous
Roman Sanchez
Chloe Stabler
Natalie Velasco
Scott Weidner
Tom Weidner
Rochelle Wright
and thank you also to the 3 completely anonymous donors!
---
Dinah Owens Memorial Scholarship
Greg Andersen
Neil and Dyan Corvino
Judy Fredricks
Debbie and Darrell Griffin
Goddard Family
Jordan Helwerda
Jodan and Denise Helwerda
Mark and Linda Holste
Anonymous
Doug McCarroll
Amanda Montemayor
Jason Shin
Becky Williams Paschke
Deanna Rutkowski
and thank you to two completely anonymous donors!
---
Related posts: