Blue Knights Hold Legacy Horn Auction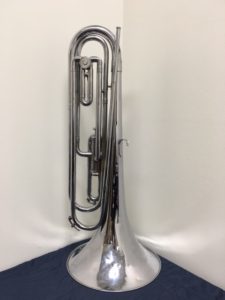 DENVER, CO – The Blue Knights are hosting a "Legacy Horn Auction" through the BK Marketplace online store. Drum Corps fans can now own a piece of history through this auction to get their very own legacy bugle from years gone by.
In addition to owning an historic piece of hardware, 100% of the proceeds from this auction will go toward the "Blue Knights Alumni Scholarship" to benefit future Blue Knights performers. Winning bidders will get to own a piece of history and help the Blue Knights of tomorrow.
Legacy Horns up for bid:
– Piston Rotor G-bugles
– 2-valve G-bugles
The Legacy Horn Auction is open to the public but if a horn doesn't get auctioned off, it will carry over to successive rounds until sold.
Don't let your favorite bugle get away!
Special thanks to Blue Knights alum, Jesse Bertsch, and Ascend Promotions Manager, Todd Eastis for their help preparing these horns for auction!
Related posts: