Blue Knights Staff – Brandy Dubose (Color Guard Caption Head)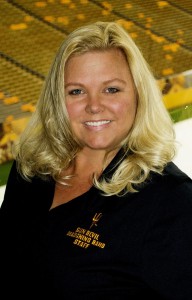 Brandy DuBose is the director and choreographer for the Arizona State University Sun Devil Color Guard. Brandy was born and raised in Texas, where she attended Texas State University-San Marcos as a Dance Performance major, and also taught the Bobcat Marching Band Color Guard and Millennia Independent Open Winterguard for 11 years. In Texas, she taught the Seguin High School color guard for 10 years, from 1995-2006. After moving to Arizona in May 2006, Brandy began working with ASU.
Brandy is currently the Director of Fenix Independent Winterguard, which is a two time World Class Finalist, and in her third year as Caption Head for the Blue Knights Drum and Bugle Corps from Denver, Colorado.  She has served as Caption Head for other organizations such as Tarheel Sun and The Academy Drum and Bugle Corps, as well as a member of the Colorguard staff for the Santa Clara Vanguard Drum and Bugle Corps.  She marched in the Colorguard at Phantom Regiment (1993-1995) as well as a member of the Nouveau (IA), Speakeasy (IA) and Ascension (IW) Winterguard programs.  In addition to her involvement with ASU, she is currently the Director of Colorguard at Corona del Sol High School and Colorguard Liaison for the WGAZ circuit.  Brandy currently resides in Gilbert, Arizona with her family Wardell and Miles King.