Blue Knights Staff – Danny Sibley (Front Ensemble Instructor)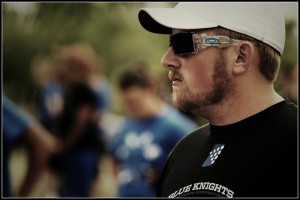 Danny Sibley is returning for another year on staff with the Blue Knights Percussion Ensemble as a Front Ensemble Instructor. He was a member of the group in 2011, 2013, and 2014. During his age out season in 2014, Danny had the privilege of serving as a section leader in the Front Ensemble. He was also a member of the Blue Knights Drum & Bugle Corps in 2012 and 2013, winning the award for "Rookie of the Year" in 2012. In 2013, Danny performed as a member of the Blue Knights Drum & Bugle Corps Front Ensemble at the DCI Individual & Ensemble competition.
Danny graduated from Mountain Range High School in 2010 and is attending Metropolitan State University of Denver where he is pursuing  a degree in Mathematics and Elementary Education. He is currently a composer and instructor at the 2-time PSCA State Champion Broomfield High School. Danny has also taught at Mountain Range High School, Evergreen High School, and many other schools around Colorado.
Outside of music, Danny has been involved with children's after school and summer programs. He also loves to golf, play indoor soccer, and watch football. Danny currently resides in Northglenn, CO.