2015 Blue Knights Drum Majors Revealed

DENVER, CO – The Blue Knights Drum and Bugle Corps is pleased to announce their 2015 Drum Majors: Aaron Bradford, Myles Giller, and Adora Choquette.
Aaron Bradford and Myles Giller are coming in as 4th year veterans with the Blue Knights. Both played mellophone their rookie year, in 2012. They both admit to having the experiences of a lifetime in the Blue Knights Drum & Bugle Corps, encouraging them to want to come back years after. Aaron and Myles' first year of sharing the drum major position was last season with "That One Second" in 2014.
Aaron Bradford is a dedicated member to the Blue Knights, beginning his third season as a drum major. Aaron played trumpet his first three years of high school, and was drum major his senior year. He switched from trumpet to mellophone in 2012 out of pure curiosity. Aaron initially did not seek out the position as drum major, but he has embraced the position since 2013.
Aaron shares his thoughts on how the 2015 season has been progressing.
"The rehearsals this year have been great. Nothing has really changed with technique and attention to detail. Instead, the intensity and determination coming from each and every member of each and every section has given us a platform to exceed our success from last year and put us in the hunt for another climb up the standings."
Myles Giller marched mellophone his first two years with the Blue Knights. He was selected to be drum major in 2014. In high school, Myles played saxophone and learned mellophone his senior year, which allowed him to audition for Blue Knights.
Myles shared his main reasons for why he chose a drum major position.
"I became interested in the drum major position knowing that I wanted to give more back to the drum corps, as it had already given me more than I could ask. The position is one of selfless service."
Adora Choquette is entering her second season with the Blue Knights. Adora is a devoted Texas girl who started her journey on clarinet in high school and transitioned to Drum Major shortly after, while also being involved in dance and figure skating. She became the first drum major for the Guardians Drum & Bugle Corps in 2013, which lead her to audition for the Blue Knights, becoming a backfield conductor in 2014. She is now sharing the title of Drum Major, and will be a vital addition to the powerful group of three. Adora is an exceptional student at Baylor University. Her discipline sets an example for others.
"It is my love for the membership and my passion for uplifting and serving them that keeps me returning to the activity as a Drum Major," Adora said.
Aaron, Myles, and Adora are few of the many astonishing people in the marching arts, who choose to give back not only to the organization, but to friends that inspired them. The humble, selfless leaders who influence further generations to be the example, the one everyone looks up to. Literally.
---
ABOUT THE AUTHOR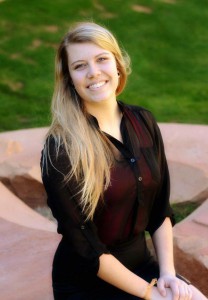 Sarah Anderson is graduating with a Bachelor's of Science in Communication from Arizona State University in May 2015.  Her experience in the marching arts consists of 3 years with The Academy Drum & Bugle Corps color guard (2011-2013) and has aged-out with the Blue Knights Drum & Bugle Corps color guard in 2014.  Sarah is currently marching her third season with the world class Winter Guard International finalist FeniX Independent winter guard under the instruction of Brandy DuBose, Rob Jett, Emalee Kengott and Adam Selby, all of whom are current Blue Knights Drum & Bugle Corps Color Guard staff.
In addition to her experience with color guard, Sarah has been surrounded by an entire family of musicians and has played both the piano and violin since early childhood. Sarah is very excited about what this summer has to offer and will now have an opportunity to look at the other side of things, from a previous insider's perspective.