2016 Blue Knights Drum Majors Revealed

DENVER, CO – The Blue Knights Drum and Bugle Corps is pleased to announce their 2016 Drum Major Team: Myles Giller, Diane Huseman, Sarah Jones and Daniel Belcher. All four drum majors went through a rigorous audition and interview process over the last two months at the BKXperience Camps in Denver. They were selected based on their attitude, conducting skills, strong leadership traits, and ability to commit to the Blue Knights in 2016.
Myles Giller, from Sebring, Florida, marched mellophone his first two years with the Blue Knights in 2012 and 2013. He was selected to be drum major for the 2014 and 2015 seasons. In high school, Myles played saxophone and learned mellophone his senior year, which allowed him to audition for Blue Knights. This will be Myles' 5th year and age-out year as a Blue Knights member.
Myles shared his main reasons for why he chose a drum major position:
"The Blue Knights are built around the idea of family, valuing each individual and their contribution to the drum corps. The Blue Knights have become a family to me unlike any other. Every reunion with Blue Knights past or present is accompanied with a big hug and warm smiles. The members and staff of Blue Knights also possess a relentless passion for the activity, where good is never good enough. We are always finding ways to elevate our performance and push the standards of the activity."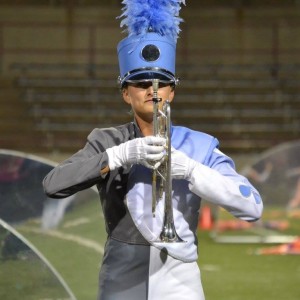 Second year member, Diane Huseman, is from Carrollton, Texas and marched trumpet with the Blue Knights in 2015. She is currently attending the University of North Texas where she is majoring in Music Education. Her goal is to become a band director some day. Being a Blue Knights drum major allows her to share her passion for music with the drum corps and the audience.
Diane shared her feelings on continuing her second season as a Blue Knight:
"I am incredibly excited to get to work with the drum corps for another year! I love the staff and how welcoming the Blue Knights has always been to me and others. I really admire how we do things differently here and how we try to speak to people in a deep, personal way."
First year member, Sarah Jones is from Evergreen, Colorado. She played clarinet for three years and was drum major for the last two seasons with the Evergreen "Cougar Pride" marching band. Her favorite historical composer is George Gershwin and while her primary instrument is the clarinet, she also plays piano. Sarah, who enjoys mathematics and science, is pursuing an engineering physics degree at the Colorado School of Mines.
Sarah shared her reason to join the Blue Knights family:
"Being a Blue Knights Drum Major means becoming a member of a loving family and helping that family embody excellence every second of every day going forward. From day one in the marching arts, I have been raised by Blue Knights. My first teachers and mentors taught me the Blue Knights mindset and values from their time in the corps, and because of that I truly felt at home when going to my first camp. Not only that, but the membership exhibits a support and care for each other that is very unique to this organization, and I could not ask for a better group of people to make shows and memories with in the coming years."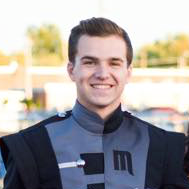 Daniel Belcher is from Cincinnati, Ohio where he attends Milford High School. Although this is his first year with the Blue Knights, he has been the drum major at his high school for the last two seasons and has also marched in Rhythm X Winds on baritone.
Daniel shared why he chose a drum major position with the Blue Knights:
"What draws me to Blue Knights are the incredible people. From members, to staff, to volunteers, and all those involved, the Blue Knights are some of the greatest and most inspiring people I have ever been around, with a burning passion for what they do. I am humbled and honored to be a Blue Knight, and I couldn't be more excited to create the memories and experiences of a lifetime together in 2016!"
Myles, Diane, Sarah and Daniel are just a few of the many amazing young people in the marching arts, who choose to give back not only to the Blue Knights organization, but to friends that inspired them. The humble, selfless leaders who influence further generations to be the example, the one everyone looks up to. We welcome them to the team and look forward to another great year for the Blue Knights in 2016.