2018 Colorado Gives Day Success for Ascend Performing Arts

DENVER, CO – Thank you to our donors who supported Ascend Performing Arts in Colorado's largest nonprofit fundraiser, Colorado Gives Day, this past Tuesday, December 4, 2018. Our supporters helped to raise over $26,000!
The funds you helped to raise will enhance the lives of young adults by providing world class music education to its drum and bugle corps, percussion ensemble, and winds ensemble members.
Specifically the funds raised will help make
some
of our
2019 "Wish List"
possible:
  The purchase of new and updated sound equipment for our performance ensembles.

The purchase of an AED (Automated External Defibrillator) and additional physical therapy equipment to help assure our member's physical health and well-being.
For the Blue Knights Drum & Corps:
  Purchase new podiums for our Drum Majors.

  Purchase of a new water filtration system for our food truck

  Purchase a new generator for our souvenir program

  Help fund additional tour equipment/ support to provide for our volunteers and staff while on tour
For the Blue Knights indoor ensembles:
Scholarships to help performers participate for Winds & Percussion Ensemble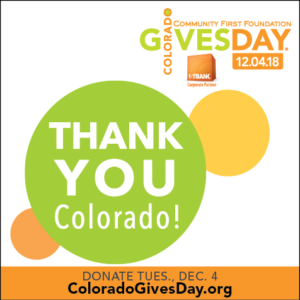 Each December Coloradans come together with a common goal of strengthening the community by helping to power nonprofits. Community First Foundation and FirstBank partner to make this day rewarding for givers, nonprofits and the community as a whole. Annually, Colorado Gives Day features a $1 million incentive fund. Every nonprofit receiving a donation on Colorado Gives Day receives a portion of the fund, increasing the value of every dollar donated.
As a participating nonprofit on ColoradoGives.org, Ascend Performing Arts programs, the Blue Knights Drum and Bugle Corps,  the Blue Knights World Percussion Ensemble and the Blue Knights Winds, will benefit from this initiative.
Thank you for your support which will assist Ascend staff and educators promote diversity and instill a commitment to hard work, collaboration and discipline.  These efforts, representing the core values of this organization, lead to greater self-esteem and leadership skills among the young adults who participate in Ascend activities.
The Ascend "Donor Honor Roll" (below) includes not only alumni, but parents, fans and supporters of the Ascend Programs–-a diverse group of people whose common ground is the wish to see programs like ours not only survive in the years to come, but thrive.
∴ Didn't get a chance to donate?  Check out some easy ways to help here!
---