Alumni Needed: Cook Truck Facelift & Volunteer Help

Our cook truck has been serving generations of Blue Knights for 25 years, and she's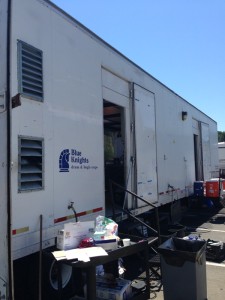 feeling a little deserving of cosmetic care. We couldn't agree more, so we're recruiting our wonderful alumni members to come out and lend a hand.
On Friday, July 10th, the Blue Knights Drum and Bugle Corps will be returning home to Denver before Drums Along the Rockies on Saturday. They will be coming in from Utah, and are expected to arrive at Adams City High School around 8 am, which is about when we'd like to have the first volunteers. We are looking for help cooking, cleaning, painting, and doing other general tasks, and we'd love to see Alumni there, though the opportunity is open to anyone who would like to volunteer.
As an added bonus, all alumni who volunteer their time will get a FREE Alumni Dots T-shirt!
For more information and to sign up, click here!