Ascend Announces 2016 Administrative Staff Update

DENVER, CO – Ascend Performing Arts is pleased to announce the fall 2016 staff update for the organization.
Mark Arnold will continue in his role as the Executive Director of Ascend Performing Arts responsible for the overall strategic, operational, and programmatic excellence of the organization.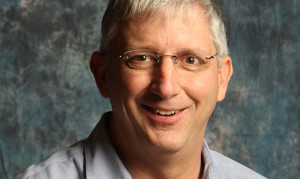 One of the longest-serving leaders in Drum Corps International today, Mark, a member of the DCI Hall of Fame, has been the executive director of the Blue Knights Drum & Bugle Corps since 1985. Getting his start as an instructional staff member with the Troopers Drum & Bugle Corps, he soon took on the role of Tour Director for the Wyoming-based drum corps. Under the tutelage of DCI Hall of Fame member Jim Jones, he learned the ins and outs of what it takes to successfully operate and get a drum corps down the road every summer.
In nearly 30 years on the job with the Blue Knights, Mark has relied on a steadfast can-do, never-give-up attitude to completely transform the Blue Knights organization into a multifaceted performing arts entity. Today, the Blue Knights is just one of multiple ensembles under the umbrella of the Ascend Performing Arts organization. In addition to operating the Blue Knights Drum & Bugle Corps and the Blue Knights Percussion Ensemble programs, Ascend annually supplies performing groups for the NFL's Denver Broncos, including the Broncos Stampede drum line and Broncs Brass performance ensemble.
In addition to shaping the course of the Blue Knights, Mark also has played an integral role in the ongoing development and successes of Drum Corps International as a collective. He served as Chairman of the DCI Board of the Directors in 1994 and again from 2008 to 2013. Mark was inducted into the DCI Hall of Fame in 2014, is a 2-time recipient of the DCI  "Director of the Year" award (2004 and 2015) and was recognized with the 2012 "George Bonfiglio Chairman's Award" for his tremendous efforts in the drum and bugle corps activity during the DCI World Championships.
Gregory "GM" Kuzma will continue in his roles as Director of Operations (COO), Director of Communications, Director of Education and Director of Entertainment for Ascend Performing Arts.
He will be responsible for providing oversight for all operations and logistics support for Ascend's Blue Knights ensembles, education programs, show events, and entertainment performances. GM brings much experience from his over 20 years of involvement in the performing arts activity. Along with his time as a performer at the junior and senior drum and bugle corps levels, he has also served in various roles as a marching visual instructor, driver, cook, tour manager and drum corps director. He has also authored a memoir about his experiences as a member of the Blue Knights Drum & Bugle Corps called "On the field, from Denver, Colorado…The Blue Knights!" where 100% of his book's sales go toward supporting today's Blue Knights members.
GM has earned a Bachelors of Arts in Communications from the University of Central Florida (1998), a Bachelors of Science in Business/Management Information Systems from the University of Phoenix (2003), and a Masters of Arts in Military Operational Art & Science from Air University (2011). He has been a marching band clinician and visual judge with the Central States Judges Association. In addition, he has also contributed to various publications as a features writer such as Halftime Magazine and Drum Corps Planet.
He has also served over 18 years as a member of the United States Air Force Reserve as a Logistics Officer with multiple overseas deployments to the Middle East and East Africa. His structured background and broad experience makes him an excellent choice in helping develop and guide drum corps and marching band's overall organizational programs, ensuring that members have a rewarding and educational experience. GM is a proud Blue Knights alumni who is looking forward to being a part of the Ascend Performing Arts organization.
Rosalie Danskin will return in her role as Office Manager for Ascend Performing Arts.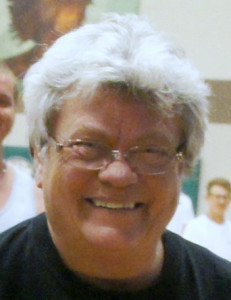 Rosalie has been working with Ascend Performing Arts and the Blue Knights since the early 1990s. In her role as Office Manager Rosalie manages the day to day business, financial and operational aspects of the front office. She is also responsible for Blue Knights programs member management as well as the registration and check-in process at every Blue Knights camp, clinic and BKXperience event.
Rosalie is a Colorado native who attended Colorado State University as a math major. She received a teaching degree and taught in middle schools in Loveland and Cherry Creek. After working with the Blue Knights for a few years, she worked for Blue Cross/Blue Shield for several years. Shortly after, Rosalie missed the Blue Knights organization and came back and has stayed ever since.
Jordan Jacobsen is returning to her position as Director of Marketing & Merchandising for Ascend Performing Arts.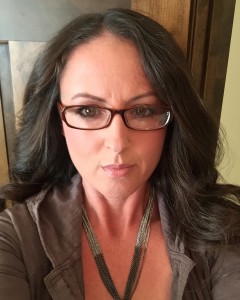 Jordan first became associated with the Blue Knights and the Ascend organization when she attended Drums Along the Rockies, an Ascend Event, in 1996. Her career in pageantry has an unorthodox beginning…after being told by her parents that she couldn't become a member of her high school color guard, she practiced spinning in her backyard with a curtain rod, honing her skills until she was able to convince her parents to let her join. From that day, she went on to become a founding member of Oracle Winter Guard, marching 4 years with the group. She also was a member of the Blue Knights color guard from 1997 through her age-out year as flag captain in 2000 and returned as the flag tech in 2001. In addition to her marching experience, she has been a color guard instructor in the Denver area for almost 20 years having taught several groups, among them Broomfield High School and Mountain Range High School.
Professionally she's worked as a multi-store retail manager with a focus on visual design and training. She is able to bring her knowledge of retail management to Ascend in her role as Merchandising Manager, and her skills with writing policy and procedures for a national retail chain enable her to work effectively in her marketing role. She is also a free-lance graphic designer, having obtained a Bachelor of Arts in Graphic Design from the University of Northern Colorado (2001). As a Blue Knights alum, she is pleased to be working for Ascend Performing Arts and giving back to an organization that has given so much to her.
Keith Huffman will return as the Volunteer Coordinator and Information Technology Coordinator for Ascend Performing Arts.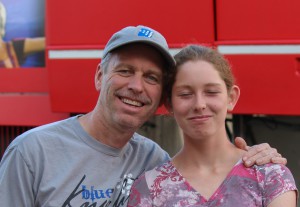 Keith lives with his family in Broomfield, Colorado where he made a living in the software and information technology industry.
During his off hours, Keith has helped multiple non-profits (including Ascend Performing Arts) with their web and social media presence. Between 2006 and 2015 Keith volunteered for an award-winning high school marching band where his two children attended – in pit crew, as prop builder, and from 2013 to 2015 as Logistics Coordinator and marching festival staff. Keith also volunteers for a local independent open winterguard group by shooting rehearsal videos, helping with their website and social media, and building tarp carts.
Keith is proud that both of his children have experienced the Blue Knights Drum and Bugle Corps as performers. His son Justin played baritone in 2009, and his daughter Kirsten has been a four year member of the Color Guard since 2013. Since 2009, Keith has been involved with the Blue Knights as a parent volunteer, and he is also pleased to be in a position to contribute his talents and spare time to Ascend Performing Arts. Since 2013, Keith has worked as the Blue Knights Volunteer Coordinator, provided hands-on help at audition/rehearsal camps, and helped with the Ascend Performing Arts social media development.
Thelma Fung will return as the Director of Development for Ascend Performing Arts.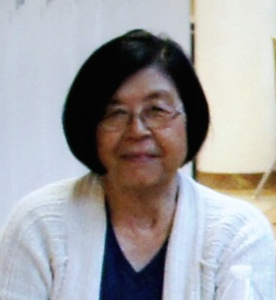 Thelma began her volunteer "career" with Blue Knights in 1993 and stayed on after her son finished marching, as she saw the many positive changes in participants as a result of taking part in an Ascend Program.  Her goal is to help Ascend Performing Arts realize the vision of a school for Performing Arts Programs through fund raising and grants.
She has been active with the Blue Knights Booster Club as President, Vice President, on the Bingo staff, assisted with any task to support the Blue Knights Drum & Bugle Corps' summer national tour including serving as Volunteer Coordinator and with assisting with meal planning. Thelma has served on the Ascend Performing Arts corporate Board until 2002 when her emphasis turned to working on development focusing on fund raising, grants and board development. She served on the planning committee that launched Ascend Performing Arts in 2010.  Thelma was honored as one of the "DCI Volunteers of  the Year" in 2008. She is a retired speech-language pathologist in private practice. Besides spending time on Ascend affairs, time is spent with activities involving her 3 grand children.
Todd Eastis will take on the Development Intern role for Ascend Performing Arts.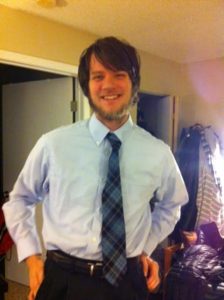 Todd Eastis has been a Drum Corps fan as long as he can remember. He is a recent transplant to Denver from Northern Indiana. You have probably seen him at the Ascend promotions booth at the Rocky Mountain Percussion Association (RMPA) shows, Friendship Cup Marching Band Competitions, Drums Along the Rockies show or any number of events.
He is currently pursuing his Masters of Nonprofit management at Regis University in hopes of working in fundraising and grant writing. He has accepted the Development Intern role and will work closely with Thelma Fung, Director of Development, in helping manage Development tasks.
Alex Factor will continue as Alumni Coordinator for all ensembles under Ascend Performing Arts.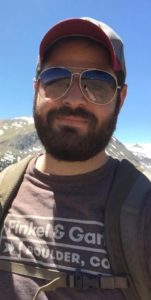 Alex Factor was born and raised in the foothills of the Rocky Mountains in Evergreen, CO and currently resides in Englewood, CO. He went to Evergreen High School and was a member of the Cougar Pride Marching Band for all four years of high school. Alex pursued a business degree at the University of Denver and graduated with his Bachelor's degree in Business Management in 2015 and received his MBA from the University of Denver this past June. During his college education, Alex worked as the visual caption head for the Chatfield Senior High School Marching Band in Littleton, CO. Currently, he works for Penton, a business service company, in Boulder as a Digital Product Development Specialist.
Alex marched with the Blue Knights Drum and Bugle Corps starting in 2011 and aged-out of the corps as Horn Sergeant in 2014.  After aging-out from the corps, Alex wanted to stay involved with the organization and took on the role as Alumni Coordinator in 2015 in efforts to get alumni more interested in Ascend's programs.  Alex's most recent project is leading the planning committee to have the very first Blue Knights Alumni Corps at Drums Along the Rockies in 2018.  Along with being the Alumni Coordinator, Alex and former Blue Knight's drum major, CJ Garcia, started the Blue Knights Leadership Experience, which has held clinics at Friendship Cup, Drums Along the Rockies, and the Mile-High Guard Festival.
George Lindstrom will return as Director of Ascend Events.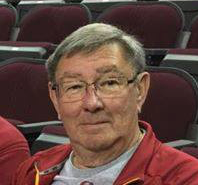 George Lindstrom will continue as the event manager for Ascend Performing Arts. He and his late wife Lynn began event management for Drums Along the Rockies in 1984. His involvement with the Blue Knights has lead to the development of Corps Encore, a drum and bugle corps show in Ogden, Utah and the Friendship Cup marching band series in Colorado.  In addition he has managed shows in Albuquerque NM and several color guard and percussion show locally in the Denver-metro area. He managed his first show in 1964 and has managed marching arts shows across the country for drum corps, marching bands, color guards, drill teams and percussion ensembles.
George became involved in the marching arts in 1957, first as a fan and then as an active participant.  His career in the marching arts has included instruction and design, unit director, judge, association management, and consultant. In addition he is a member of the Board of Directors of Ascend Performing Arts.  Professionally, his career was as a Director of Human Resources and as a consultant in organizational development and strategic planning.
Doug Kelley will continue as the Operations Director for Ascend Events.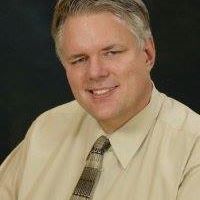 Doug marched with the Blue Knights from 1980 through 1983 – the first year the corps competed in the DCI World Championships (Miami).  He has volunteered with Drums Along the Rockies since 1984, and has served on the Blue Knights/Ascend Performing Arts Board of Directors for over 10 years. Doug serves as acting-contest director at Rocky Mountain Color Guard Competitions when the Contest Director is traveling for regionals, and is active with the Shrine Circuses and Events, and supporting the Shriner Hospitals.
Doug is a Colorado native, and holds a Bachelor's Degree in Organizational Management, and an Executive Master's degree in Public Administration from CU.  Doug is continually impressed not only with the extreme high caliber performing groups of Ascend Performing Arts, but also of the outstanding staff and volunteers that make up the Ascend family that represent the organization in such a professional manner, and make his job so easy at events!
Izaak Mendoza will transition from his summer roll as a Media Intern to a Communications Assistant where he will also act as Social Media Manager.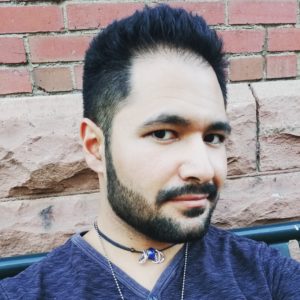 Izaak is from Lusk, WY where he and his wife teach at the local elementary and high schools. He is an educational assistant and supplementary instructor for the Niobrara County School District. He also serves as a percussion instructor for several Iowa schools and writes show beats.
Izaak graduated from the University of Wyoming in 2014 with a bachelors in International Relations with minors in Anthropology, Religious Studies and Spanish. Izaak marched 7 seasons with the University of Wyoming marching band and served as a center snare and a drumline instructor. He continues to help the UW band at events and drum major leadership camps every year. Izaak marched with the Blue Knights from 2008-2010 where he served as a drum major and percussion soloist. Izaak is currently preparing for a dual masters in Public Policy and a Masters in Business Administration with a focus on strategic social media.
Ameria Miller will transition from her summer role as Media Intern to Communications Assistant.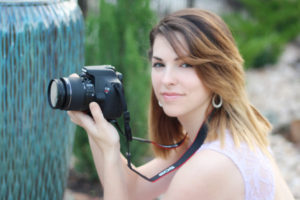 Ameria comes from the Dallas/Fort Worth area in Texas. She marched two summers with the Blue Knights Drum and Bugle Corps in 2011 and 2012 on mellophone. In 2013 Ameria was a part of the visual staff at the Academy Drum and Bugle Corps. Since then she has been a preschool music teacher spreading the education of music to the youngest of students.
Ameria holds a Bachelors of Radio and TV Productions Communications from Stephen F. Austin State University with a minor in music education. As an avid YouTuber, creating videos is a daily adventure. In February of this year, Ameria started her own videography company called Vedette Studios. Her studio does projects as small as simple business videos to larger venues such as weddings. Ameria is incredibly excited to bring her video and music experience to the Blue Knights Media Team!
Tony Villalobos May will transition from his summer role as a Media Intern to a Communications Assistant.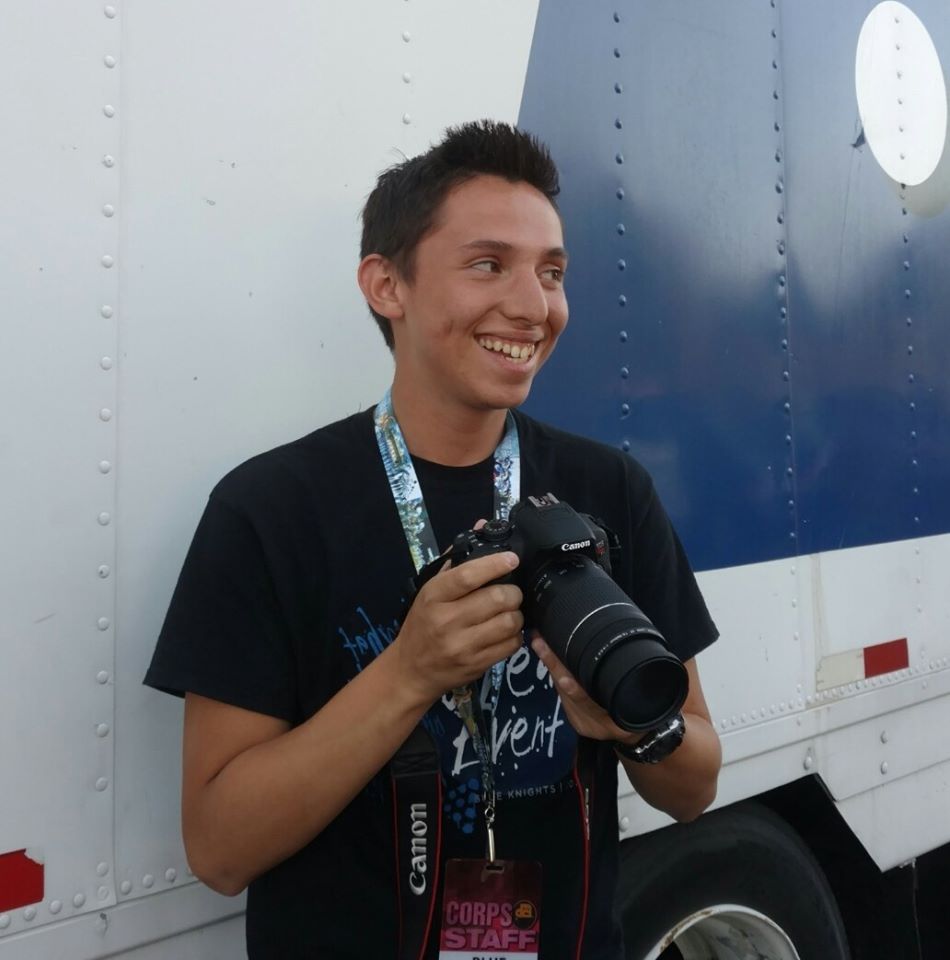 Tony is from Loveland, Colorado and is currently living in Fort Collins, Colorado where he is attending school at Colorado State University. He is currently pursuing his Bachelor's degree in Journalism and Media Communications concentrating in Photojournalism with a minor in Music, Stage, and Sports Production. Tony is currently an active reporter/photographer for The Rocky Mountain Collegian newspaper and is the Senior Field Reporter/University Affairs Correspondent for the "Rocky Mountain Review", KCSU's radio news show at Colorado State University.
Tony's passion for music started when he marched Bass Clarinet for the Loveland High School Crimson Regiment marching band, where he currently assists as an occasional photographer. Tony continues to be involved with music through his membership as a sousaphone player for the CSU Marching and Pep Bands as well as Phi Mu Alpha Sinfonia, a national men's music fraternity.
Tony toured with the Blue Knights Drums and Bugles Corps for the 2016 summer season and is excited to continue working with Ascend Performing Arts.
---