Ascend Announces New Fundraiser with King Soopers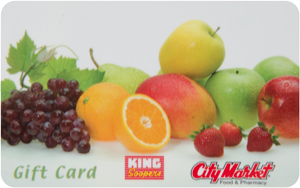 DENVER, CO — Ascend Performing Arts is pleased to announce a new way to support our programs simply by buying groceries!  We are now offering King Soopers Neighborhood Rewards Cards in the BKMarketplace.  King Soopers is a part of the Kroger family, so these reloadable rewards cards can be used nationwide at many popular grocery stores. 
Every time you load up your card to purchase gas, prescriptions or groceries at participating stores, Ascend Performing Arts will receive 5% of the total amount back! 
This is an easy way to make money for Ascend and your favorite ensembles, while doing something you'd be doing anyway—buying groceries!
Simply purchase the card through our store, then take it with you the next time you go shopping.  Prior to checking out, load the card with any amount (up to $500 at a time) and then use it to pay for your purchases.  You can load your card at the Customer Service counter, but as there is a 5 minute delay for processing it's easiest to just ask your cashier to load it with your specified amount in a separate transaction before you buy your groceries. 
That's all it takes to give back to Ascend Performing Arts!  Purchase your card today, and start saving tomorrow.
» For a detailed FAQ about our King Soopers Neighborhood Rewards Card Program and a list of participating stores, please click here.
» To purchase a King Soopers Neighborhood Rewards Card, please click here.