Be a part of the BKXperience this Fall

DENVER, CO – The BKXperience allows student of a variety of performance levels to learn from the some of the best educators in the marching arts activity while experiencing what it is like to go through an audition experience with the Blue Knights Drum & Bugle Corps or Blue Knights Percussion Ensemble.  A number of participants join the drum and bugle corps or percussion ensemble as a result of the BKXperience camps.  However, everyone participates gains improved skills, increased self-confidence, and make new friends.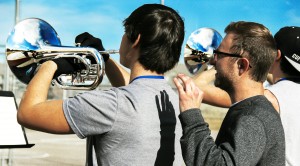 The Blue Knights Xperience is a weekend of unparalleled instruction and camaraderie for anyone who is looking for more.  Learn the exercises and techniques that have propelled the 2015 Blue Knights Drum & Bugle Corps to its 21st Top-12 finish at the Drum Corps International (DCI) World Championships.  Play next to the best and brightest—Brass, Percussion and Color Guard—learn how to prepare for performance and experience first-hand to see why your best, is yet to come.  Locations are set for Colorado, Texas, Georgia, Ohio, and southern California this fall.  Learn more about them here.
Or check out the Blue Knights Xperience for the Blue Knights Percussion Ensemble–a 21-time Rocky Mountain Percussion Association State Champion and 4-time Winter Guard International (WGI) champion.  Clinics and audition opportunities will be hosted in the Denver-area.  Learn more about them here.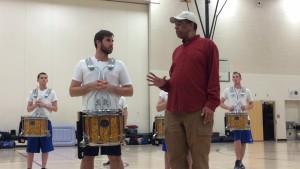 The BKXperience presents you with a great opportunity to learn from some of the best educators in marching arts activity.  Each audition experience event offers instruction by our professional instructional staff and you will learn right alongside veteran members of the Blue Knights.
You are encouraged to come and experience the process even if you feel that you're not quite ready to join. The BKXperience will help you better prepare when you do decide to audition.  Who knows?  You may surprise yourself!–you will never know until you try!
Once registered, you'll receive an audition information packet that includes a thorough explanation of what will be expected of you as a member.  Please read this document thoroughly, share it with your parents or guardians, and ask questions if there are things you don't understand or need help with.
Prospective members and returning members will only have to attend one of the events, all call-backs will meet as a group in January (except Color Guard) to begin training for the 2016 season.  We invite you to join us to learn the techniques and methods that develop the members of the Blue Knights into one of the very best performing ensembles in the world.
» Ready to take the next step?  Register HERE for the Blue Knights Drum & Bugle corps and HERE for the Blue Knights Percussion Ensemble!