BKXperience-Denver (Dec '16) Clinic Report

DENVER, CO – The Blue Knights Drum & Bugle Corps held their second 3-day BKXperience-Audition! Camp weekend for the 2017 Drum Corps International season which saw an all-time record attendance for the Blue Knights. This camp was held at Englewood High School with positive reports from all areas of the Blue Knights organization as member contracts were awarded to most of the drum corps.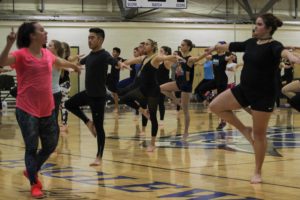 "We were not only impressed with the record number of participants but also the high level of training and skill of those auditioning for the drum corps," said Blue Knights Executive Director, Mark Arnold. "While member contracts were awarded, we continued to provide a learning opportunity for those attending just for the experience."
Participants from the United States, Canada, Taiwan, and Japan went through the audition experience for brass, battery, front ensemble, and color guard.
"We had a lot of awesome talent come out to the December Camp," said Daniel Belcher, drum major in his second year with the Blue Knights. "We got a chance to play the 1st and 3rd movement to our show this year which makes us really excited about the upcoming season."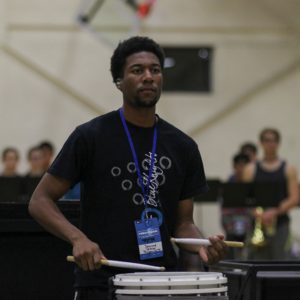 This Blue Knights finalized the drum major positions with Diane Huseman, Daniel Belcher, and Sarah Jones. In addition, the staff also selected two Ensemble Specialists, Lilly Walker and Caleb Florence, who will provide music, equipment, and rehearsal support to the drum corps at camps and on tour.
This is the 3rd year the Blue Knights formally held the BKXperience-Audition! with a two-fold purpose of holding auditions and educating those who wish to become better performers. This weekend's attendance saw 300 participants evenly balanced among brass, percussion, color guard and drum major–becoming the most ever attended audition camp for Blue Knights in the Fall audition season. In addition, the level of talent was some of the best seen at Blue Knights auditions in December in recent years.
Next up: The next Blue Knights 3-Day Camp will be in Denver, CO from January 20-22, 2017 at Adams City High School. This camp will be for all battery and front ensemble contracted members as well as brass contracted members, brass call-backs, and those brass players who just want to go for the experience.
» Check out pictures from the 2017 Blue Knights Xperience Camp – Denver, CO (December)!
» Registration for our upcoming Training Camps are now online. Visit our Audition Experience page to learn more and register!


---