Blue Knights Denver Xperience Camp Preview – December 2014

DENVER, CO – The Blue Knights Drum & Bugle Corps will hold its next BKXperience event in Denver, Colorado on December 19-21, 2014 at Rachel B. Noel Middle School.  Check in will begin at 6:00 pm.  Please note that the cost of the Camp Fee will increase the day of–if you have registered but NOT paid, make sure you pay now to avoid the extra cost and added wait time at check in.  The cost for this camp is $100 for all participants if paid before Friday.  The camp fee will increase to $125 if you pay at the door (if you did not pay in advance).  The Camp Fee covers meals, overnight accommodations, instruction, and materials.  This fee does not apply to summer tuition fee.
Also, if you plan on auditioning for a spot in the Blue Knights and you have not already paid the Audition Fee, you will need to pay the Audition Fee here (NOTE: Attendance at an off-site clinic does not constitute having paid the Audition Fee).  If you have any questions about your fees, please contact Rosalie at Ascend@AscendPerformingArts.org before this weekend.
Following check in, there will be a welcome meeting from 7:00 pm – 7:30 pm followed by a parent meeting at 7:30 pm for those who are able to attend.  Parental support is what makes the Blue Knights successful, and you are needed to give the members the incredible Blue Knights experience we are known for.  This is also a great way for you to find out about our program and meet other parents. We are confident that you will find a very welcoming and exciting opportunity here.
Powered by Volunteers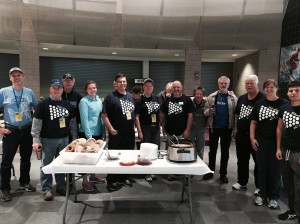 This month volunteers will cook and serve the meals throughout the weekend and provide airport shuttle transportation.  Not sure how to help?  Just ask.  We can always find something for anyone willing to lend a hand.  Volunteers are encouraged to sign up here beforehand (but stop by anyway if you're there) and sign up for the email mailing list to receive Blue Knights information via email.  Please contact our Ascend Volunteer Coordinator, Keith, for questions: Volunteer@AscendPerformingArts.org.
*Read more about volunteering here.
Snack will be provided before lights out on Friday evening.  We will also provide breakfast, lunch, dinner, and snack on Saturday and breakfast and lunch on Sunday.  If you have any dietary restrictions, please let us know during check-in.  You should plan on staying through the weekend until we are done on Sunday at 4:30 pm. Wondering about the weather?  Check out the Denver forecast and be ready to be outside if it is nice: 5-Day Forecast.  Be ready for cold temperatures!
What to bring
Attendees will stay overnight in the school on the floor, as you will all summer.  Aside from your rehearsal gear you should have a sleeping bag and anything else you will need for an overnight stay: wire music stand (if you have one), water cooler, 3-ring binder, sheet protectors, mouthpiece(s) for brass, sticks/mallets/drum pad for percussion, your instrument or equipment, cloth gloves for brass, leather/fingerless gloves for guard, sneakers, sleeping bag, pillow, toiletry items for entire weekend, audition and/or camp fee. We will provide percussion instruments, a limited number of horns, flags and weapons. Color Guard members should at least bring their own weapon (if possible). Your camp fee will cover all of your meals during the weekend. We will have showers available at the camp location as well.  For more on what to bring, please refer to our FAQ.
Transportation
As a reminder for those of you coming in from out of town, please complete our new transportation request form here: http://bit.ly/bkshuttleform by Wednesday, December 17th.  You will receive an email before camp with more details once you complete the form. NOTE: Failure to do this may result in long delays before you are picked up at the airport or bus station.
Membership Process & Contracts
All positions in the Blue Knights are available in every section.  Following the weekend, you will get feedback on your audition.
Attendees will be told one of the three options:
1. Offered membership into the Blue Knights.
2. Given a "call-back" for a final audition in January.
3. Suggested that you come back again next year.
If you are returning from a BKXperience Clinic or Camp, we are specifically looking for the growth you have made in the past month.  Your audition will be similar to the prior month, and please be prepared in the same manner as which was asked for your first audition.  A decision will be made regarding your membership after this camp.  If you cannot attend this camp, please make sure you are communicating with your respective caption head.
Those who are offered a contract should begin making payments on your fees immediately when you submit your contract online.  An email with instructions will be sent to those offered contracts after this weekend.
Remaining Rehearsals
∴ Brass & Percussion Only– January 16-18, 2015 (6:00pm Friday – 4:30pm Sunday)
Rachel B. Noel Middle School

∴ Brass Only — February 13-15, 2015 (6:00pm Friday – 4:30pm Sunday)
Rachel B. Noel Middle School

∴ Brass Only — March 13-15, 2015 (6:00pm Friday – 4:30pm Sunday)
Rachel B. Noel Middle School

∴ Brass, Percussion, Guard — April 24-26, 2015 (6:00pm Friday – 4:30pm Sunday)
Rachel B. Noel Middle School
*Tentative Move-in for "All-Days" training is set for Saturday, May 16, 2015.

If you have concerns or issues the day of the camp, you may contact us at our email: Communications@AscendPerformingArts.org.
Thanks for your interest in the Blue Knights and we'll see you on Friday!