Blue Knights Drum & Bugle Corps announces 2015 Staff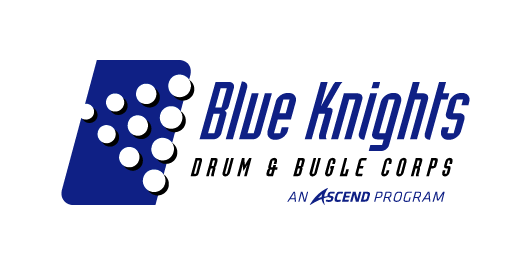 DENVER, CO – The Blue Knights Drum & Bugle Corps is pleased to announce the staff for the 2015 season.
Mark Arnold will return as the Director for his 30th consecutive season. His efforts have helped the Blue Knights achieve 20 Top-12 finishes at the Drum Corps International World Championships Finals since taking over as corps director in 1985. Arnold was recently inducted into the 2014 Class of the DCI Hall of Fame for his sustained contributions to the drum corps activity.
Heather Benton will also return for her fourth season as the 2015 Tour Director for the drum corps. "Heather is a problem-solver," Arnold said. "She works tirelessly for the members, staff and volunteers to get them safely down the road and her experience has made her an invaluable asset managing our tour logistics."
Among the accomplished educational staff returning for 2015 are caption heads Brad Toth (Brass), Mike Jackson (Percussion), and Brandy Dubose (Color guard). New to the team this year will be Neil Adkison taking on the Visual Caption Head role. Neil has an impressive resume including 5 years with Carolina Crown and most recently, 3 years with the Madison Scouts (see Neil's complete bio here). In addition, many of the 2014 techs from all captions will be returning to continue the momentum into next season. See entire staff listing here.
"The instructional staff is a key component at Blue Knights," said Arnold. "We are fortunate to give the members 'World Class' instruction as part of the BK experience with this wonderful group of professionals."
The Blue Knights design team is also returning with Jed Weeks, (Program Coordinator), Juan Caceres (Visual Design), Jay Bocook (Brass Arranger), Mike Jackson (Percussion Arranger), Kevin Shah (Percussion Arranger/Sound Design/Music Coordinator), Tommy Keenum (Program Consultant) and Ralph Hardimon (Music Consultant).
"The design team really put together something special this last season with our 'That One Second' program," said Arnold. "They have already begun building upon that success with preliminary concept meetings this fall and from all indications, it is going to be another exciting year!"
The Blue Knights Drum & Bugle Corps will kickoff the 2015 season with a series of BKXperience 1-Day Clinics and Weekend Camps in Colorado and around the country beginning in November. To learn more visit the Blue Knights Drum & Bugle Corps page.