Blue Knights Family and Friends Gathering at Brazen

DENVER, CO – For this year's holiday celebration, Ascend Performing Arts will be hosting a Blue Knights Family and Friends gathering at Brazen, a new restaurant co-owned by one of our own Blue Knights alumni, Lance Barto on November 30, 2014.  For more info on Lance, check out this interview regarding his new restaurant, Brazen, that was recently named one of Denver's 11 Best New Restaurants of 2014 (read about it here).
"We would all like to invite you to join us at the establishment of a Blue Knights alumnus, Lance Barto at his new restaurant Brazen, to celebrate our Blue Knights' successes and support Lance in his new venture," said Mark Arnold, Executive Director of Ascend Performing Arts.  "What a great way to celebrate the start of a new year!"
This gathering is open to all our Blue Knights alumni, both drum corps and percussion ensemble, and will be a casual, come and go as you please affair from 4pm to 8 pm. (map)  There will be complimentary appetizers available, and Chef Barto will be offering a limited dinner menu for those who wish to purchase a full meal.  Drinks can be purchased from the bar, and Ascend Performing Arts board member (and alumnus) Jon Fung has offered to purchase one drink (wine or beer only) for each person that attends.
Come join volunteers, board members and fellow alumni as we welcome in the holiday season with our friends and family and support one of our own in his new establishment.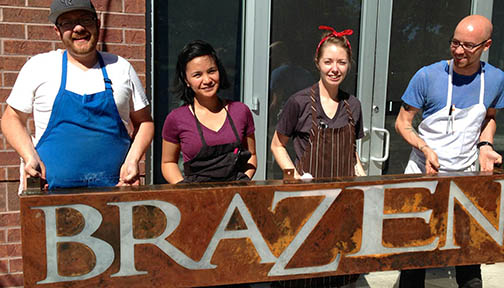 PLEASE RSVP: If you are considering of dropping by, please email
Jordan
and let her know so we have a rough estimate of attendees.  Thank you and hope to see you there!