Blue Knights' First Week of All-Days Underway

DENVER, CO – On Saturday, May 16, members from all different parts of the world left home to begin their 85-day journey with the Blue Knights. With record low temperatures in the mid-40's so far, Denver is slowly warming up for drum corps weather. Before the glamour of tour begins, it is essential to get back to basics. The fundamentals of any craft, especially the performing arts, are the gateway to success.
The full corps has not yet arrived, with students still finishing up schoolwork and graduation ceremonies. About two-thirds of the 150-member corps are in attendance, and are learning the fundamental exercises needed in order to master the technique. The brass and percussion have already received all of their show music and were expected to be familiar with it before move-ins. As the rest of the members arrive, the production will develop and the staff will continue to push the corps to achieve new standards.
Ely Canales, a first-year member of the Blue Knights color guard and a drum corps rookie, is also aging-out this summer. After her first weekend of drum corps, this is what she has to say about her experience thus far:
"It is definitely a culture shock, with such a strict schedule and working hard every day. I am learning to adjust to a different flag technique than I am used to, but I love Randi Miles' dance style. The hardest part of this summer so far was leaving my husband, and communication has been scarce with little free time. I am definitely excited to start learning the show and see what drum corps is all about!"
Christopher Williams marched trumpet with the Blue Knights in 2013 and is beginning his second year on the brass staff. After his age-out year, he could think of nothing better than to give back to the peers he once marched with. He shares his thoughts on the progress so far:
"We have basically been working on all of our fundamental exercises, either in circle drill or a close-knit group. All of the members were expected to know their show music well before they moved in, because we are working on that as well. Drill starts tomorrow, May 19. I am looking forward to the brass this season; they are already sounding great and working hard."
Cameron Brown, the front ensemble section leader, is going into his fourth year with the Blue Knights. He explains what the front ensemble has been doing:
"About half of the front ensemble is here so far, so we haven't been able to work on much. We have basically been refining the warm up exercises and some show music. As section leader this year I am very excited about getting the entire group together to hear how we sound."
Aubrey Killebrew is a second year mellophone player from Winston Churchill High School in San Antonio, TX. Once she arrived at the Blue Knights, she was introduced to an entirely different standard of work ethic and motivation among peers. Although suffering minor knee injuries in 2014, she has fully recovered and is excited about another season with the Blue Knights. Aubrey talks about how things went for the brass during her first few days:
"This weekend has been awesome! I have been really happy to see such motivation and positivity so far during blocks. JJ's movement block today (May 18) was great and a lot of fun, I even wanted to go hug him and tell him how much I love him. Overall this weekend went very smoothly and I am excited for what is to come. I am honored to be a part of an organization that is changing the perception of the Blue Knights." JJ, or John Joseph, is new to the Blue Knights this year as a visual and dance technician. He has recently aged out with Blue Stars Drum & Bugle Corps, and marched Onyx winter guard.
The progress of the first few days has been undeniable. The show concept and ideas being presented are opening many doors to new opportunities in the 2015 season. The communication between the members and staff is constantly improving. Although the finals performance in August may seem distant, time is of the essence and never wasted. In the company of passionately driven individuals, every moment is a precious opportunity for the Blue Knights to grow as performers and as a family.
---
ABOUT THE AUTHOR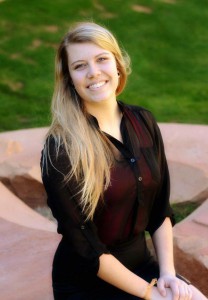 Sarah Anderson is graduating with a Bachelor's of Science in Communication from Arizona State University in May 2015.  Her experience in the marching arts consists of 3 years with The Academy Drum & Bugle Corps color guard (2011-2013) and has aged-out with the Blue Knights Drum & Bugle Corps color guard in 2014.  Sarah also performed three seasons with the world class Winter Guard International finalist FeniX Independent winter guard under the instruction of Brandy DuBose, Rob Jett, and Adam Selby, all of whom are current Blue Knights Drum & Bugle Corps Color Guard staff.
In addition to her experience with color guard, Sarah has been surrounded by an entire family of musicians and has played both the piano and violin since early childhood. Sarah is very excited about what this summer has to offer and will now have an opportunity to look at the other side of things, from a previous insider's perspective.