Blue Knights Percussion Ensemble Sets 2017 Membership

DENVER, CO – The Blue Knights Percussion Ensemble held four BKXperience-Audition! Clinics over the past two months in preparation of setting their winter drum line for the 2017 season for competition in the Winter Guard International (WGI) and Rocky Mountain Percussion Association (RMPA) circuits.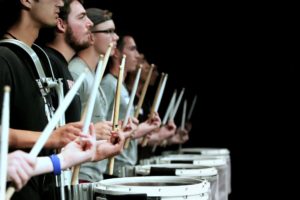 The first two BKXperience clinics were held as "Open Clinics", available to all who wanted to experience the Blue Knights Percussion Ensemble staff and teachings. The last two BKXperience clinics held decided the outcome of the 2017 Blue Knights Percussion Ensemble membership.
Members came from as far south as Air Academy High School all the way up to Windsor High School. The membership also included college students from the University of Northern Colorado, Colorado University, and Colorado State University. This year, the Blue Knights have contracted 39 members to fill  22 battery spots and 17 front ensemble positions.
"We are very happy with the talent that came to try out this year," said Alyssa McCollum, Ensemble Manager for the Blue Knights Percussion Ensemble. "We are looking forward to another competitive season along the Front Range and in Dayton! This season is going to 'rock'!"
---
Congratulations to the following 2017 BKPE cast members:
BATTERY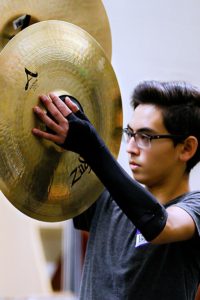 Snares:
Jordan Bettner, Richie Dow, Josh Drouillard, Sean Fitze, Marc Griess, Zack Hall, Denver Heinz, Alexx Nielson
Tenors:
Ollie Campeau, Henry Ives, Brandon Montalvo, Jacoby Morciglio, Emily Soder
Bass:
Daniel Brindzik, Logan Daehnick, Grayson Hueser, Moriah Lane, Kenny Swartout
Cymbals:
Robby Brady, Nick Carranza, Caleb McCartney, Ben Roth
---
FRONT ENSEMBLE
Marimbas:
Dylan Brule, Julian Davidson, Malia Odekirk, Ryan Richard, Hallie Schield
Xylophone:
Maxwell Henson
Vibraphones:
Caleb Florence, Pryce Holmes, Jake Martin, Kara Ylitalo
Drumset:
Nikki Saiz
Bass Guitar:
Andy Ramirez
Electric Guitar:
James Acosta
Synthesizer/Piano:
Sam Sherman
Auxiliary Percussion:
Xan Cordova, Joshua Gurule, Sean Yates
---
∴ Check out the 2017 BKPE Schedule for rehearsals and shows here!