Blue Knights Percussion Ensemble Sets 2018 Membership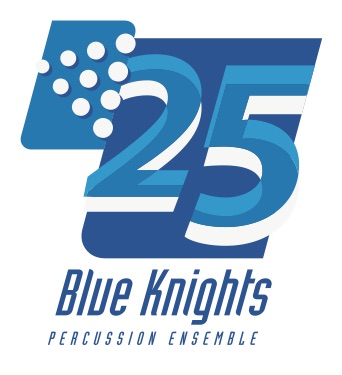 DENVER, CO – The Blue Knights Percussion Ensemble (Independent  World Class) held four BKXperience-Audition! Clinics over the past two months in preparation of setting their winter drum line for the 2018 season for competition in the Winter Guard International (WGI) and Rocky Mountain Percussion Association (RMPA) circuits. This will also be the 25th Anniversary of the Blue Knights Percussion Ensemble, celebrating a long-line of Blue Knights ensembles who have guided the WGI and RMPA activity to where it has evolved today.
The first two BKXperience Clinics were held as "Open Clinics", available to all who wanted to experience the Blue Knights Percussion Ensemble staff and teachings. The last two BKXperience Clinics decided the outcome of the 2018 Blue Knights Percussion Ensemble membership.
Prospective members came from as far south as John Mall High School all the way up to Windsor High School with several prospects coming from out of state such as Nebraska, New Mexico, Utah, Washington, and Hong Kong. A number of members are currently attending state universities such as Colorado State University, Colorado University-Boulder, Metropolitan State University, University of Northern Colorado, University of Denver, and Po Leung Kuk Ma Kam Ming College.
This year, the Blue Knights contracted 42 members (up from 39 last season) to fill 21 battery spots and 21 front ensemble positions.
"We are very pleased with the talent that came to try out this year," said Keenan Evans, Ensemble Manager for the Blue Knights Percussion Ensemble. "We look forward to another exciting season for the Blue Knights in 2018!"
---
Congratulations to the following 2018 BKPE cast members:
BATTERY
Snares:
Brendan Carroll, Broomfield, CO
Ethan Choate, Fort Collins, CO
Xan Cordova, Greeley, CO
Richie Dow, Fort Collins, CO
Rebecca Gipe, Boulder, CO
Luke Kaes, Loveland, CO
Quan Le, Littleton, CO
Zach Van Hook, Colorado Springs, CO
Tenors:
Mason Justus, Boulder, CO
KaKit Leung, Hong Kong
Jacoby Morciglio, Thornton, CO
Nick Trask, Littleton, CO
Bass:
Jamal Blassingale, Greeley, CO
Dan Brindzik, Broomfield, CO
Caleb Florence, Greeley, CO
Moriah Lane, Thornton, CO
Sean Yates, Highlands Ranch, CO
Cymbals:
Robbie Brady, Centennial, CO
Katie Kilwein, Broomfield, CO
Amber Lawton, Lafayette, CO
Bradley Willard, Centennial, CO
---
FRONT ENSEMBLE
Rhythm Section:
James Acosta, Northglenn, CO
Matt Calkins, Littleton, CO
Will Coleman, Lakewood, CO
Payton Farnsworth, Littleton, CO
David Knight, Walsenburg, CO
Andy Ramirez, Thornton, CO
Abigail Reyes, Colorado Springs, CO
Nikki Saiz, Denver, CO
Jonathan Southworth, Broomfield, CO
Keyboards:
Matt Boyle, Fort Collins, CO
Julian Davidson, Erie, CO
Grace Evans, Colorado Springs, CO
Austin Holst, Broomfield, CO
Dylan Kroha, Centennial, CO
Kyle Lang, Westminster, CO
Hanalei Lintag, Broomfield, CO
Malia Odekirk, Fort Collins, CO
Connor Page, Boulder, CO
Hannah Ramirez, Fort Collins, CO
Ethan Staffieri, Thornton, CO
Audrey Thackerson, Denver, CO
---
∴ Check out the 2018 BKPE Schedule for rehearsals and shows here!