Blue Knights Select Student Leadership For 2016

DENVER, CO – The Blue Knights Drum & Bugle Corps is pleased to announce its student leaders for the 2016 Drum Corps International season. These leaders were selected based on a rigorous review process for the brass, percussion and color guard sections. To read about the 2016 Blue Knights Drum & Bugle Corps drum majors, click here. 
"As an organization we have dedicated a lot of time and energy to revamping and developing a strong system of leadership within our organization," said Jordan Helwerda, Assistant Director of the Blue Knights Drum & Bugle Corps. "All selected student leaders went through a very tough review process. We are extremely happy with leadership team that has been built and the structure that has been built to allow them to be successful leaders within the Blue Knights organization."
---
Brass: Dallas Mitchell, Horn Sergeant (High Brass)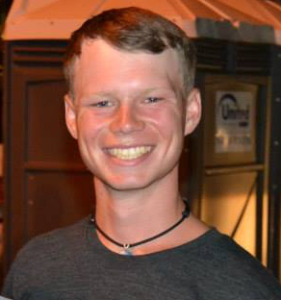 Dallas is in his 3rd year with the Blue Knights playing the mellophone. He is from Lafayette, LA where he is studying Mechanical Engineering with a Minor in Mathematics at the University of Louisiana-Lafayette. He began his time with the Blue Knights in 2014, marched in 2015 and is returning in 2016.
"The Blue Knights has influenced and shaped my life as much, if not more, than any other program that I have been apart of. I've had so many great experiences in this organization and I hope to be able to help continue that for others through this position. The Blue Knights is a very special place to be and I highly value being a member of this horn line and corps. So many lifelong friends have been made and I can't possibly express the amount of gratitude for every single moment I have spent with the Blue Knights. And no matter where life takes me after the Blue Knights, I will always go on."
---
Brass: Andriy Sovetov, Horn Sergeant (Low Brass)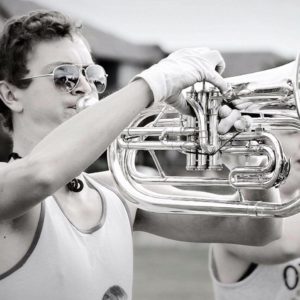 Andriy Sovetov was born in the Ukraine and has lived in Colorado since he was 4 years old. He is currently studying Music Composition at Colorado University-Boulder as a Junior. At 19 years old, he is in his 4th year with the Blue Knights, playing the baritone.
"I originally decided to try to become horn sergeant of Blue Knights after the 2014 season, knowing it would be a long process before I achieved my goal. The reason I wanted the position was so that I could help in giving back to the organization as much as it gave me in my first two years, and that's still what it's about: giving back to an organization through service and leadership to help it continue growing into a territory it's never been to before." 
---
Trumpet Section Leader: Austin de la Rua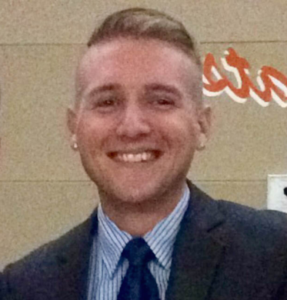 Austin de la Rua is from Friendswood, Texas. He is currently a Sophomore at Sam Houston State University in Huntsville, Texas studying Music Education. This will be his 3rd season in DCI (Troopers in 2014 and Blue Knights in 2015, 2016). 
"I want to be someone that is there for the corps and reliable 24/7. I want the corps to feel like I have their back. The skills and experiences that I learn in drum corps will translate directly to the professional world. Blue Knights is my family and I wouldn't trade any of the memories or people I've met at Blue Knights for the world."
---
Mellophone Section Leader: Jimmy Kellen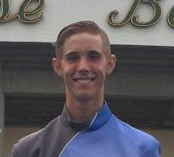 Jimmy Kellen is from Colorado Springs, Colorado and is finishing up his Freshman year studying Aerospace Engineering at the University of Colorado-Boulder on an Air Force ROTC scholarship. This summer will be his second year marching brass, having marched baritone for Blue Knights last year. He played marimba and marched tenor drums for his marching band throughout high school.
"I'm taking on this position to expand my skills as a leader and put into practice what I've already learned thus far during my time as a cadet in the Air Force ROTC Detachment 105."
---
Baritone Section Leader: Bailey Pruitt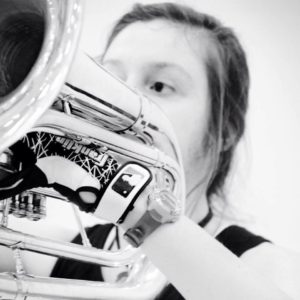 Bailey Pruitt is from Austin, Texas and is attending the University of Alabama where she is majoring in Music Education. This will be her 4th season with the Blue Knights where she has played the baritone.
"Blue Knights are definitely on our way to the top. The vibe here is unlike anything I've ever seen before. I can't wait to see what we can do! I absolutely love this corps."
---
Tuba Co-Section Leader: Samuel Anderson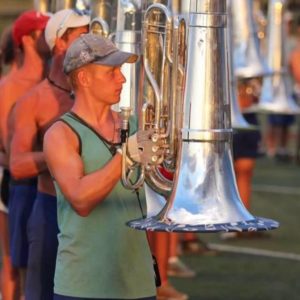 Samuel Anderson is from Highlands Ranch, Colorado and will be attending the Grand Canyon University in Arizona for Film Production in spring of 2017. (Spring 2017). At 21 years old, he is entering his 3rd year with the Blue Knights and is an age-out.
"Aging out with Blue Knights is a blessing and I couldn't be more excited to hold a leadership position. Three summers has transformed me into a more aspiring person who is able to overcome challenges accompanied by my leadership role. The variety of positions I'm responsible for this coming summer includes tuba leadership, Christian youth group connector, and fixing damaged instruments as a brass repair technician. I'm determined to push each individual member to his or her limits but also provide a satisfying and enjoyable summer."
---
Tuba Co-Section Leader: Bryce Allen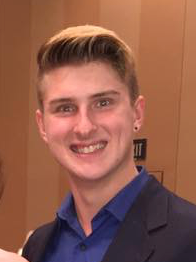 Bryce Allen is from Fort Worth, Texas, where he studies Mechanical Engineering on the STEM path to a Masters in Business at the University of Alabama. This will be Bryce's 3rd season with the Blue Knights.
"My time at the Blue Knights has taught me that through the right amount persistence and passion, any goal can be accomplished. I've taken on the position of section leader so that I can help people push their limits daily while retaining stellar attitudes in even the worst conditions. People who operate in this way–individuals who lightheartedly exude an energy of unconditional excellence–will always be leaders, whether or not they have a title. By helping move the Blue Knights towards this mindset of accountability and encouragement, I believe I can play my hand in driving one of the most influential and inspirational organizations in the world to heights it has never before achieved.
---
Battery Captain: Tyler Doan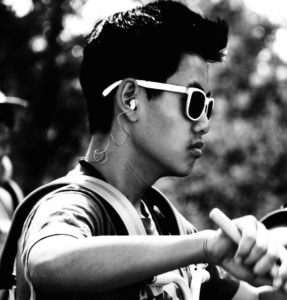 Tyler Doan is from Mission Viejo, California where he is in his 4th year at the California State University at Fullerton majoring in Business. This will be Tyler's 3rd season with the Blue Knights Drum & Bugle Corps where he plays snare drum and his 4th season of marching in Drum Corps International.
"I'm very excited for this upcoming season. This year's blue Knights have a lot of potential to become one of the best Blue Knights groups I have ever been a part of. Can't wait to see how our show unfolds during the season."
---
Front Ensemble Captain: Isabell Liao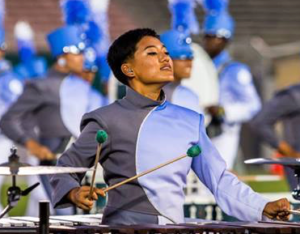 Isabell Liao was born and raised in the Los Angeles, California region. She is pursuing a Bachelor's degree in Cinema & Television Arts, with minors in Music and Public Relations. Isabell began marching drum corps in 2015 with the Blue Knights Drum & Bugle Corps.
"I'm taking on this position with the intent of actualizing the potential of the 2016 Blue Knights Front Ensemble. The past year with BK was quite enjoyable, and I'm here again to see if it will be just as good or better, and to see what I can do to make it so. In this coming summer, I hope to achieve a similar or higher standard of excellence alongside some of the most hardworking people I will ever meet."
---
Color Guard Captain: Carissa Hobbs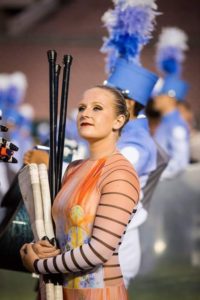 Carissa Hobbs is from Chandler, Arizona. She have been marching for 8 years, and this will be her 3rd season of drum corps and 2nd season with the Blue Knights Drum & Bugle Corps.
"In my career this far I have never felt so at ease or confident doing what I love more than I have with the Blue Knights. Within this organization and team I have found a place that has made me feel supported, undeniably loved, and equipped for any situation thrown at me. Most importantly, Blue Knights makes me and many others feel at home; a feeling many of us including myself feel incredibly grateful for."
---
Color Guard Caption: Lyndsey Martin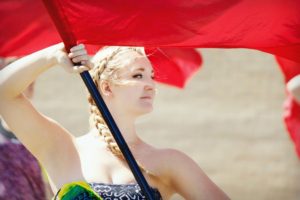 Lyndsey Martin is from Colorado Springs, Colorado and is currently attending the Arizona State University majoring in Dance Education. This will be Lyndsey's 3rd summer performing with the Blue Knights Drum & Bugle Corps.
"Over the years, this organization has molded me into a stronger performer, and leader, as well as providing me with the knowledge and skills to better myself as an educator.  My staff has constantly challenged me and motivated me to embrace every moment that I get to spend with my Blue Knights family. I am more than excited to reunite with my Blue Knights Family, as well as welcome in all of the new faces!  We have so many incredible members that are willing to learn and push the boundaries of this activity, and I can't wait to see what this summer has in store for us!"
---
Color Guard Captain: Roxanne Roy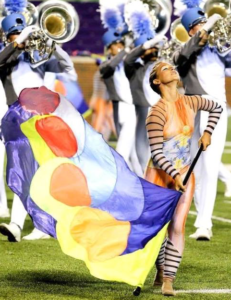 Roxanne Roy is from Montreal, Quebec, Canada where she currently attends the University of Montreal. This will be Roxanne's 3rd season with the Blue Knights Drum & Bugle Corps.
"The Blue Knights are stronger than ever, and I feel we're ready to show everybody what we are capable of! Working with so many talented people is an everyday motivation to work harder and better, and I am so proud to be a part of an organization that brings its own very special, fresh touch to the activity, and I can't wait to, once again, share a powerful message with the audience. This upcoming season is definitely going to be one to remember!"
---