BLUE KNIGHTS STAFF – Ben Pouncey (Trumpet Instructor)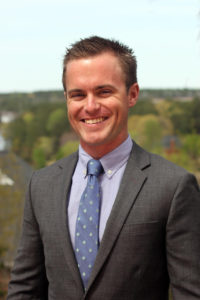 Ben Pouncey is a Trumpet instructor for the Blue Knights Drum & Bugle Corps. Ben is the band director at DuBose Middle School in Summerville, SC and an assistant with the Summerville High School Bands.
An alumnus of The Cadets Drum and Bugle Corps, Ben served as the corps' drum major from 2009 to 2011 after having been a member of the trumpet section in 2007 and 2008. The Cadets are 10-time Drum Corps International (DCI) World Champions, having won their most recent title in 2011. Ben was also the recipient of the 2011 DCI Jim Jones Leadership Award. He has served as a member of The Cadets' instructional staff and has been a clinician for the Drum Corps International Drum Major Leadership Seminar held each year for DCI drum majors from across the nation. A native of Columbia, SC, Ben graduated from the University of South Carolina with a Bachelor's Degree in Music with an emphasis in Music Education.