BLUE KNIGHTS STAFF – Brittany Baptista (Front Ensemble Instructor)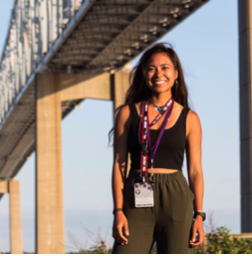 Brittany Baptista is a Front Ensemble Instructor for the Blue Knights Drum & Bugle Corps. Brittany is a North Texas resident, where she is currently a Front Ensemble Technician at Boswell High School and a Percussion Lesson Teacher in Frisco ISD. She is also on the front ensemble staff at WGI world class group Vigilantes Indoor Percussion.
Brittany received her undergraduate degree in English at The University of Texas at Austin, where she sang in the Women's Chorus and played in the UT Steel Band Ensemble. During that time, she worked as an elementary english tutor, and as a Program Intern and After-School Teacher at Side by Side Kids.
In 2013, she marched her first summer of drum corps with the Blue Knights Drum & Bugle Corp in the front ensemble, and aged out with BK in 2014. She marched her age-out year on marimba during the 2015 season at Vigilantes Indoor Percussion, and returned the following indoor season as a front ensemble technician.
Brittany is currently a Classical Percussion Performance major at The University of North Texas, where she has been a part of chamber percussion ensembles, symphonic band, wind ensemble, Gamelan ensemble, and the 2 o'clock Steel Band.
Brittany proudly endorses Vic Firth sticks and mallets. This will be Brittany's third year on staff with the Blue Knights.