BLUE KNIGHTS STAFF – Paula Monique (Mellophone Instructor)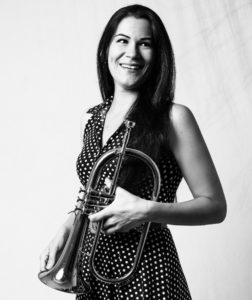 Paula Monique is a Mellophone instructor for the Blue Knights Drum & Bugle Corps. Paula is an educator and musician, born and raised in sunny South Florida. She has been actively involved in the drum corps community since 2002 and marched lead mellophone with The Cadets Drum and Bugle Corps from 2002-2006.
Paula was very involved with the corps, holding the positions of section leader (04,05) and horn sergeant (06). Paula was also the recipient of multiple distinguished service awards, as well as the coveted "Cadet of the Year" award during her time with The Cadets.
She was a visual instructor for Teal Sound (07), and The Cadets (09) and was a brass instructor for the Boston Crusaders (09, 10, 11, 13) Bluecoats (15) and most recently, Carolina Crown (15,16,17).
Paula has enjoyed many years as a touring musician and performer, traveling throughout North America, Japan, South Korea and Europe. She was a cast member in the Tony and Emmy award winning show "Blast!" from 2007-2012, where she played trumpet, piccolo trumpet, flugelhorn, cornet, mellophone, percussion, and didgeridoo during the two hour production. Paula was also a cast member of "Brass Angels" an all female stage show featuring brass, percussion, and dancers, which toured Japan in 2008. She has toured nationally as a pit musician in Fiddler on the Roof, and spent many years as a freelance trumpet player throughout South Florida.
Paula is also a Jupiter XO performing artist and plays exclusively on XO Trumpets.
She has been an active instructor in the WGI Winds circuit since it's inception in 2015.
She was Co-Music Caption Head at Stryke Wynds (15,16), Music Caption Head at Nova HS Winds, ('16) and the Music Caption Head at FIU Indoor Winds for the 2017 season.
Paula is currently the Assistant Director of Bands at North Broward Preparatory School in Coconut Creek, FL and in her "spare time" teaches marching band and private lessons.