Blue Knights Staff – Ruben Romero (Visual Design / Bass Drum Instructor)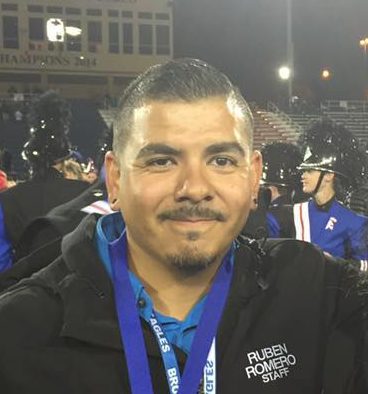 Ruben Romero is the bass drum instructor for the Blue Knights Percussion Ensemble. He first became a part of the Blue Knights family in 2002 as a member of the Blue Knights Open Class Percussion Ensemble, and then continued on with the Blue Knights World Class Percussion Ensemble from 2003 – 2007, and with the Blue Knights Drum & Bugle Corps from 2003 – 2006. He earned his Bachelor of Music Education degree from the University of Northern Colorado in 2008, and has taught at schools around Colorado since 2006.  
Ruben taught full time in Denver Public Schools for 7 years and is the current Band Director at Broomfield High School. He taught the Centaurus High School Percussion Ensemble for 9 years until 2016, and was the director for 7 of those years. He has also designed marching band drill for Mountain View High School, Englewood High School, Centaurus High School, Broomfield High School, Texas A&M Kingsville, and the University of Northern Colorado.
Ruben is really excited to be a part of such a talented team here with the Blue Knights. This organization gave him so many great years and powerful tools to carry on in his life and he looks forward to helping to provide that same kind of experience for many more talented musicians.