Friendship Cup – Englewood Information

ENGLEWOOD, CO – The first Friendship Cup Scholastic Marching Band Competition for the fall 2019 season kicks off at Englewood High School on Saturday, September 7, 2019. Schedule and details are listed below for those units participating for this marching band contest. The Englewood show is sponsored by Ascend Performing Arts and the Englewood High School Band Boosters. Bands are classified by band size and will compete against bands their own size. Results for this show will be posted on this page when confirmed by contest officials.
Band Clinic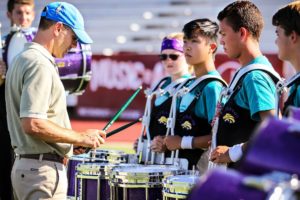 In addition to the marching band contest, there will be a band clinic for all participating bands in the morning and afternoon before the show (8:00am-3:30pm). Each clinic will have five clinicians and will be 45 minutes long under the supervision of Chief Judge, Dr. Ed Cannava. Bands are encouraged to arrive 30-45 minutes early for parking, check-in, and warm-up. Please be at the gate and ready to go at least 5 minutes before your start time. Bands will be encouraged to perform their entire show at the beginning of the clinic, and then the clinicians will work with the band in sections and as a whole.
Blue Knights Leadership Xperience
During the day, there will be a Blue Knights Leadership Xperience (BKLX) from 12:00pm-1:15pm hosted by Blue Knights Alumni, Caleb Florence, Drum Major 2018 and 2019. This leadership clinic is open to drum majors and student leaders of all the participating bands. Participants should plan to bring their own meal with them to the BKLX session. Caleb is a recent age-out of the Blue Knights Drum & Bugle Corps and has been instrumental in assisting Ascend Performing Arts with educational opportunities during the past two years, having also hosted a student leadership clinic for participants during the recent BKXperience-Perform! Clinic held at Drums Along the Rockies.
BK Marketplace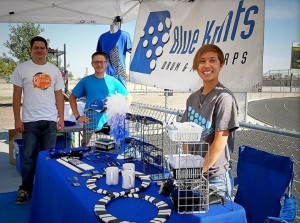 Check out the BK Marketplace merchandise booth at the Friendship Cup that will have Blue Knights merchandise, band-related t-shirts, and promoting of the upcoming BKXperience-Audition! Clinics. Funds raised will go into the Ascend Performing arts general operating fund to be used for all Blue Knights ensembles and Ascend Events such as Drums Along the Rockies, Corps Encore, and future Friendship Cup shows. Check out this job opening: BK Marketplace Booth Team Member!
Judges
Chief Judge: Dr. Ed Cannava
Music Individual: Jack Yonce
Music Ensemble: Dr. Ed Cannava
Music GE 1: Steve Martin
Music GE 2: Gary Hall
Visual Individual: Jenn Carrasco
Visual Ensemble: Chris Tavano
Visual GE: Nick Patterson
Percussion: Shilo Stroman
Color Guard: KC Michel
Color Guard Clinician (for clinic): Dee Hanes
Admission
Admission to the Band Clinic and BKLX Student Leader Clinic is FREE. Show admission is $10 (available at the spectator gate for General Admission which starts at 4:30pm). Student ID's, Military ID's and Seniors (65 and older) get $2 off advertised price. Children 5 and under are FREE. Cash, Visa or Master Card will be accepted at ticket sales outlet at stadium. Gates open at 4:30pm.
Event Times
– Clinic time: 8:00 am – 2:45 p.m.
– Gates open: 3:30 PM
– Contest time 4:30 pm – 8:00 p.m.
– Retreat (Drum Majors only) 8:10 p.m.
---
               2019 FRIENDSHIP CUP – ENGLEWOOD
SCHEDULE
Time
Stadium
Lower Field
Clinic
1

8:00 – 8:45

Englewood
2

8:45 – 9:30

Elizabeth
Rangeview

9:30 – 10:15

Thornton
Skyview
4

10:15 – 10:30

*Break*
*Break*
5

10:30 – 11:15

Windsor
Woodland Park
6

11:15 – 12:00

Grand Valley
Broomfield

12:00 – 1:15

*Lunch Break/BKLX Clinic*
7

1:15 – 2:00

Prairie View
Standley Lake
8

2:00 – 2:45

Littleton
Highlands Ranch
 2

:45 – 4:30

 *Dinner Break*
Gates Open 3

:30

Contest
1

4:30 – 4:45

Skyview
A
2

4:45 – 5:00

Thornton
A
3

5:00 – 5:15

Grand Valley
A
4

5:15 – 5:30

Rangeview
A
5

5:30 – 5:45

Elizabeth
A
6

5:45 – 6:00

Douglas County
AA
6:00 – 6:15
 *Break*
7
6:15 – 6:30
Standley Lake
AA 
8

6:30 – 6:45

Windsor
AA
9

6:45 – 7:00

Prairie View
AAA
10

7:00 – 7:15

Broomfield
AA
11

7:15 – 7:30

Highlands Ranch
AAA
12

7:30 – 7:45

Littleton
AAAA
13

7:45 – 8:00

Englewood
AA

8:10 – 8:25

*Retreat DM Only* 
*NOTE: Results for this show will be posted on this page when confirmed by contest officials.
---
SEASON SCORES:
---
» Host: Englewood High School website
Location:
Englewood High School
3800 S Logan St
Englewood, CO 80113