Help Blue Knights Win the 2017 Rocky Mountain Rivalry

DENVER, CO – The Blue Knights Drum & Bugle Corps have headed out for their 20i7 Drum Corps International summer tour but they still need BK Nation's to help beat the Troopers in the Rocky Mountain Rivalry.
As the members and staff of the drum corps put the final touches on their eye-catching 2017 production "i" (read more about the show here), a new challenge has arisen for the friends and family of the Blue Knights. This year, the Blue Knights will go head-to-head with the Troopers for the 4th annual Rocky Mountain Rivalry to raise the most money supporting their respective drum corps.
Did you know? Member fees only pay for 41% of what it costs to run a summer tour? The other 59% comes from merchandise and event profits, performance fees, bingo and DONATIONS. Help the Blue Knights experience the summer of a lifetime. The Rocky Mountain Rivalry is our biggest fundraiser of the summer, and we need your help to meet our goal!
Rocky Mountain Rivalry Returns:  This week long event will start on midnight, Friday, July 14th, and end on Saturday, July 22nd. During this time, we will compete against each other in raising funds in support of our annual campaigns.
Aside from bragging rights, the drum corps that collects the most donations within that time period wins the 2017 Rocky Mountain Rivalry! The "losing" drum corps director will be forced to wear the drum corps shirt or hat of the "winning" drum corps. Last two years, the Blue Knights were victorious–help them do it again!
---
FINAL RESULTS:

1. Troopers: $46,887
2. Blue Knights: $41,597

---
Although the Rocky Mountain Rivalry has concluded, you can STILL make a difference with your 100% tax-deductible donation and help the Blue Knights with the Feed the Knights. Click below to sponsor a meal now: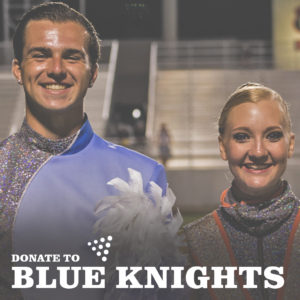 ---