Inside The Blue Knights Clinic Returns to Grand Junction in 2019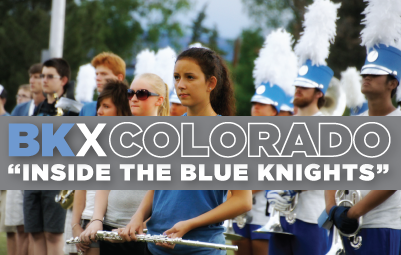 DENVER, CO – The BKXperience "Inside The Blue Knights" Clinic is another component to the BKXperience that provides an opportunity for marching band musicians and color guard students to not only learn from our top-grade educational team, but to also perform with the Blue Knights Drum & Bugle Corps.
The next BKXperience clinic will be held on Monday, June 24, 2019 at Grand Junction, CO, held at Stocker Stadium from 1:30pm to 9:00pm.
The clinic is designed for ALL sections and instrumentations and includes dinner and a t-shirt. Students will learn a section of Blue Knights music and drill from their 2019 program and rehearse alongside members of the corps. Dinner will be provided, then all students will participate in a "Show & Tell" open to the public. The clinic will then conclude with a presentation of the Blue Knights competitive program open to the public.
Clinic Details
Monday, June 24th, 2019
Stocker Stadium—12th & North Ave, Grand Junction, CO
Combined performance with Blue Knights and clinic participants at 8:00pm, followed by performance of Blue Knights competitive program.
No Fee (but must register!).
Register online here. Late registrations will be accepted the day of the event (however t-shirt is not guaranteed).
Winds & Percussion: Bring your own instrument! Color Guard, only bring flags.
Instructions, music will be emailed to band directors and individuals before clinic.
Schedule
1:30 Check-in & Registration at CMU Band Field
2:15 Welcome & introductions
2:30 Marching basics—wind instruments (percussion/guard on their own)
3:15 Music sectional (guard on their own)
4:15 Visual Staff teaching drill (all sections)
5:30 Dinner—Blue Knights mobile kitchen at Stocker Stadium
6:45 Blue Knights warm-up, participants review drill/move and play at Stocker Stadium
7:20 Ensemble rehearsal with participants at Stocker Stadium
8:00 Performance with participants (open to public) at Stocker Stadium
8:30 Full performance of Blue Knights show at Stocker Stadium

This clinic is sponsored by Ascend Performing Arts and the Colorado Mesa University "Maverick Stampede" marching band with the support of KHS America, Jupiter Instruments, Mapex Percussion, Majestic Percussion, Colorado Mesa University, Grand Junction Public Schools, and the Colorado Bandmasters Association.
The Blue Knights staff will also host a special Q&A session for band directors and instructional staff to discuss show design and effective rehearsal techniques during this clinic.