Member Spotlight: Andriy Sovetov

DENVER, CO – At first glance, Andriy Sovetov (pronounced like "Andre"), doesn't seem particularly out of the ordinary. The 18-year old has a bright smile, a friendly manner, and, like others here at the Blue Knights Drum & Bugle Corps, works incredibly hard at what he does.
Born in Kyiv, Ukraine, Andriy now calls Aurora, Colorado home and attends school in Boulder. After living in Kyiv for four years, the passing of his father and remarriage of his mother led the family to the  United States where they have lived ever since.
When asked about his life beyond drum corps, Andriy modestly says he gets, "pretty good grades," but it might be a little more than that… At 18, Andriy is entering his junior year in college at the University of Colorado Boulder as a Music Composition major. As a college freshman (and 16-year-old), he had declared a major in Engineering Physics in addition to Music Composition, but his rookie year with the Blue Knights inspired a change. "After drum corps," he says, "you choose to do one thing and be the best at it." Once he's finished with school, he hopes to move to Los Angeles, get an internship in film-scoring, and eventually become a film score writer.
His life was changed July 9, 2011, when his high school marching band went to Drums Along the Rockies, the Blue Knights' home show. The first drum corps show he ever saw was The Academy's 2011 show, "(RE)." They were followed by the Blue Knights, with their show "An English Folk Song Suite," and he realized that a local corps could be his way into that world. Looking back, he recalls that the entire night blew away his expectations. He realized there was something out there that was bigger than himself, and bigger than high school marching band–not only did it affect the individual performers, it also affected those for and with which they performed.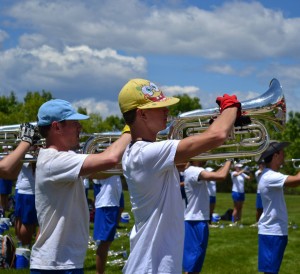 He first auditioned for the Blue Knights in 2012, and remembers distinctly what he was told: "We love what you're doing, but we hate how young you are." He received a callback but decided not to return, and instead to come back the next year and be so good that they couldn't tell him no. He recalls people at school telling him he couldn't make it; even teachers urged him to wait until he was older, or else to audition at a corps that is a little less competitive. He  returned to audition for the Blue Knights' 2013 season, and earned a contract playing baritone. He was 16 years old. He says one of the biggest factors that pushes him to excel in the activity is knowing that the people who tried to cut him down aren't doing anything on nearly as grand of a scale as he is. It makes waking up and working hard (for 14 hours every day, for the entire summer) all the more satisfying. Every single time Andriy performs, especially at the end of the summer season, on the field at Lucas Oil Stadium for World Championship Finals, he reminds himself, "I got here, in part, because everybody told me I couldn't." For him, nothing compares to Finals night at Lucas Oil. "That's the top of the game, at Finals," he says. "You're at the height of the art. You've made it. You have done what people said can't be done, and all they can do is sit there and watch you."
Drum corps gave him a place to go, away from everybody else. "The people that matter the most are the ones that are here," he says, and he finds comfort in that. He sobers up a little when he recalls the beginning of his high school years–he says he was pretty unpopular, which meant he was bullied often. He quickly returns to his usual grin and makes a joke, but maintains that when he's with the corps, he likes being able to push everything else to the back of his mind and focus only on giving his all to what he's doing in rehearsal.
This kind of work ethic is a recurring theme in Andriy's life. In addition to playing the baritone, he has played piano since he was 6 years old. Andriy won't talk much about it, but Blue Knights Executive Director Mark Arnold describes him as nothing less than "a prodigy." He also did gymnastics for four years, took two years off, and then competed for another 6 years, earning first in state on pommel horse at 12 years old. Now, as an active and passionate member of a world-class drum corps, it's no different. Andriy strives to not only do, but be his best in,  "every single thing I do, from horns up to horns down." If it's first thing in the morning and the corps is having visual rehearsal, he makes sure his legs are straight, his toes are high, his carriage is right, his posture is perfect, and so on. At 11:00 at night, after a long day of rehearsal, he's still practicing. Often, he can be found awake after lights-out, working on school work. "My passion," he says, "comes from the drive to push the Blue Knights to places they've never been before."
Andriy is entering his third year on baritone with the Blue Knights, and can't imagine being anywhere else. "I found my family here," he says. Year after year, he keeps coming back, and he says it's because the membership has consistently improved, he likes the shows and their aesthetic, and–unless something changes drastically–he doesn't foresee himself leaving. He found his place at the Blue Knights during his rookie year, and says the corps staff in 2013 changed his life.
Instead of being intimidated by coming into an ensemble of such a high caliber as a 16-year old, Andriy was filled with awe. He had never encountered anything like this; he thought it was impossible, what he was experiencing. Visual staff member Jeremy Thompson taught the corps visual technique, and had a way of describing the pageantry of the activity in a very specific, thought-out, intelligent way, with phrases and analogies that Andriy recalls really buying into. He says what really affected him was how Thompson spoke about "the way that you march, and the way it applies to how you lived life." Thompson also emphasized the love for what one does, which is still reflected in Andriy's actions to this day. "Whatever it is that you choose to do, you have to be the best at it," he remembers. "If you're the best at what you love to do, you're pretty much guaranteed to have a good life." Andriy repeatedly emphasized the idea that people choose to be the best, which is echoed in his remarkable work ethic. It's clear that he knows incredible things don't happen unless you choose to make them happen.
Brad Toth, brass staff in 2013 and current Brass Caption Head, presented 16-year old Andriy with one word that has helped shape his life to this day: undeniable. Toth "took seemingly complicated concepts and simplified them into a single word or phrase," and the one that stuck with Andriy above all else is the idea of being undeniable. He explained it as being so good that the only thing anybody can say is, "Yes. That was really, really good." It's the idea that, "when you build the [right] habit, that becomes the standard, and then nobody can ever get in your way." Andriy continued, "Don't let anybody ever get in your way. Be undeniable in everything that you're doing."
This concept, being undeniable, repeatedly came up when Andriy was talking. It runs through all he does–every rep, every hour of practice, every time things get tough, he does his best to remain undeniable. Before he marched in 2013, he had two knee surgeries, which put him out of gymnastics and delayed his marching. Then, when he was auditioning, there were those who told him he couldn't do it, or that he was too young. He returned, after working to be so good that they couldn't tell him no–undeniable. Last fall, he voluntarily hosted his own member-run experience camps to give local students a chance to become more comfortable with the visual aspect of marching, and hopefully instill in them more confidence and an interest in joining the corps. For two and a half months, before this 2015 season, Andriy worked 65 hours per week on campus at CU Boulder and off campus at Sprouts Farmers Market (in addition to taking 19 hours of classes) in order to come up with the money to pay tour fees. He ran on the Blue Knights Marathon Relay team in the 10th annual Kaiser Permanente Colfax Marathon this year, and was the fastest on the team, running his leg at a 6:55 mile pace.
It's plain to see, after talking to him, that Andriy Sovetov is nothing short of extraordinary. The good-natured 18-year old excels at that which he chooses to do and is dedicated to the Blue Knights, and through both of these things he has grown as a performer and an individual. He lives and acts in a way that can only be described by one word:
Undeniable.
---
ABOUT THE AUTHOR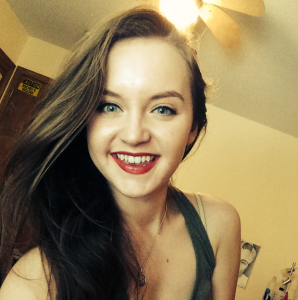 Rachel Hanna is a native of Des Moines, Iowa and is currently pursuing degrees in Communication and in English at Truman State University, located in northeast Missouri.
Rachel has been a passionate supporter of music and the marching arts for many years; she performed in Truman's Statesmen Color Guard in 2014, was on the founding executive board & design team of Amethyst Independent Winter Guard in 2015, and has been involved in various choirs throughout her life. She continues her involvement in Truman State's music department through Sigma Alpha Iota, a national women's music fraternity. She is excited to combine her professional communication interest with her love for the arts as a member of this brand new internship team.