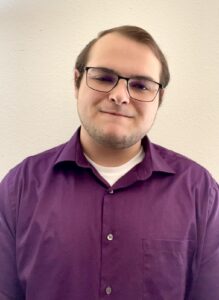 Jake is an interdisciplinary artist, educator, and performer based in Fort Worth, Texas. He has extensive experience in outdoor, indoor, and chamber percussion, and began his percussion career at Boswell High School in Fort Worth, Texas. Jake was a performing member of Vigilantes Indoor Percussion from 2014-2018, as well as the Blue Knights Drum and Bugle Corps in 2016 and 2018.
Jake completed his undergraduate at the University of North Texas, where he earned a Bachelor's degree in Percussion Performance. While studying at UNT Jake had the opportunity to perform with the Afro Cuban Percussion Ensemble, South Indian Cross-Cultural Ensemble, 2:00 Steel Band, Symphony Orchestra, and Chamber Percussion Ensembles. Through various forms and outlets Jake has had the chance to study with renowned performers and educators such as Mark Ford, Paul Rennick, Christopher Deane, Brian West, Mike Jackson, and Kevin Shah.
Jake is currently serving as the Assistant Percussion Director at Chisholm Trail High School in Fort Worth, Texas, and is also on the front ensemble staff at Vigilantes Indoor Percussion.