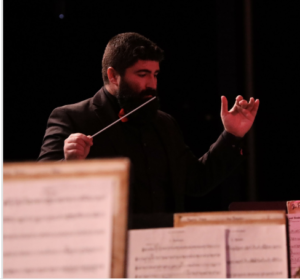 Nicholas Gasemy was born and raised in Frederick, Maryland. He received his Bachelor's degree in Music Education from West Virginia University in Morgantown, West Virginia. While attending WVU, he was a member of various ensembles including The Pride of West Virginia Mountaineer Marching Band, Wind Symphony, and Symphonic Orchestra. He studied Horn with Dr. Virginia Thompson, Jennifer Presar, and Robert Lauver.
Nicholas has a strong Drum Corps background in both performance and education. He performed with the Jersey Surf (2010-2013) and The Cavaliers Drum and Bugle Corps (2014-2016) on Mellophone and has taught the Visual Programs of The Cavaliers (2017-2018) and Music City Drum and Bugle Corps (2020-2022). He also serves as the Visual Caption Head for Old Line Independent Percussion (2021-present).
Nicholas is currently the Band Director at Governor Thomas Johnson High School. Under his direction, the Marching Band has received many awards and recognitions including being the only group from the state of Maryland to become a Bands of America Regional Finalist in 2018 and being named State Champions at the 2022 Maryland Marching Band Association's State Championships while receiving awards for Best Visual, Best Color Guard, and Best Percussion. The school's Indoor Percussion and Color Guard programs have also competed at the WGI Richmond Regional, where they were both finalists in 2019 and in 2020 the Percussion was titled Scholastic Open Champions. The school's concert band also regularly appears at the Maryland State Adjudication Festival.