Tyler Orbison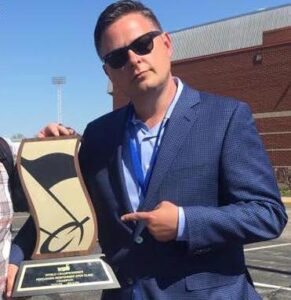 Tyler has been actively involved in music performance, education and design for over twenty five years. As a performer Tyler spent time with several notable groups such as Carolina Crown, the Dallas Mavericks Drum Line and the Texas A&M Commerce PASIC indoor percussion ensemble, of which he was a section leader. He was fortunate to study with many leading educators through the years, including Paul Rennick, Jeff Queen, Brian West, Mickey Hartzog and Allen Joanis.
Professionally, Tyler has served in supervisory and design roles with many groups, including Pioneer, Forte D&BC and Surround Sound Indoor Percussion Ensemble. He is the founder of WGI Independent World Finalist Vigilantes Indoor Percussion (ViP), where he serves as Ensemble Director, Program Coordinator and Battery Arranger. He holds similar responsibilities for the Boswell High School marching band and indoor program in Fort Worth, TX.
Tyler is an active arranger, design consultant, clinician and adjudicator, worldwide. He proudly endorses Vic Firth, Zildjian, Remo, Dynasty, Titan Field Frames and is a hardcore fan of the Dallas Mavericks, the greatest team in the history of organized, professional sport.