Culinary Intern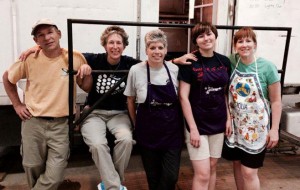 The Culinary Intern will be the work closely with the Food Manager and the volunteer cook team for the Blue Knights Drum & Bugle Corps. They will learn everything there is to learn about managing food service for over 200 people during the summer national tour. There is no bigger restaurant in Denver that serves over 200 people, 4 times a day for 85 days of drum corps!
Requirements
∴ 18 years or older.
∴ Valid drivers license with good driving record.
∴ Ability to lift at least 50 lbs.
∴ Own your own laptop with knowledge of Microsoft Office suite.
∴ Available for entire summer (or portion of) May 15 – August 15.
∴ Preferred experience/knowledge of drum corps, marching band or indoor activity is helpful.
Responsibilities
∴ Assisting the Head Chef with meal planning, preparation, and cooking during training camps, all-days training and national tour.