Culinary Intern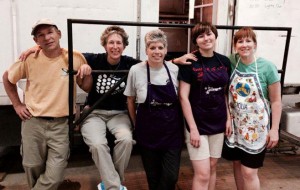 The Culinary Intern will work closely with the Food Manager and other volunteer cook team for the Blue Knights Drum and Bugle Corps.  This internship will be for one week and weekend a month (Nov-Apr) during Blue Knights Audition camps. The Culinary intern will learn everything there is to learn about managing food service for over 200 people during these audition camps.
Responsibilities:
Pre-camp:
Develop a meal plan to feed 7 meals over the course of a camp weekend. Meals must also include choices for special dietary restrictions (vegan, vegetarian,  GF, DF, etc.).
Use the menu to develop a shopping list.  This shopping list will also include other incidentals necessary to make the weekend successful.  A list of incidentals will be provided.
Shop with Food Manager for items, perishable and non-perishable.
At camp (Friday early evening):
Take pictures of the entire kitchen and tape off all host school equipment.  Blue Knights Drum and Bugle Corps use their own equipment.
Unload box truck and load and organize into the kitchen (volunteers and attendees will assist with this).
Prep the cafeteria area, setting up serving tables, a PB&J area, and a beverage area.
Clean, prepare and fill the juice and water cooler and keep them filled during the camp.
Cook menu planned meals. Assign food prep tasks to volunteers, referring them to recipes and/or handing out recipes to the volunteers.
At camps end (Sunday) use volunteer help to load box trucks and clean kitchen and cafeteria areas.
Requirements
∴ 18 years or older.
∴ Valid driver's license with a good driving record.
∴ Ability to lift at least 50 lbs.
∴ Own your own laptop with knowledge of Microsoft Office suite.
∴ Available for one full week and weekend of entire audition camp season (or portion of) November-April
∴ Preferred experience/knowledge of drum corps, marching band or indoor activity is helpful but not required
Questions? Email employment@ascendperformingarts.org.