Media Intern
Ascend Performing Arts is now accepting applications for Multimedia Interns for the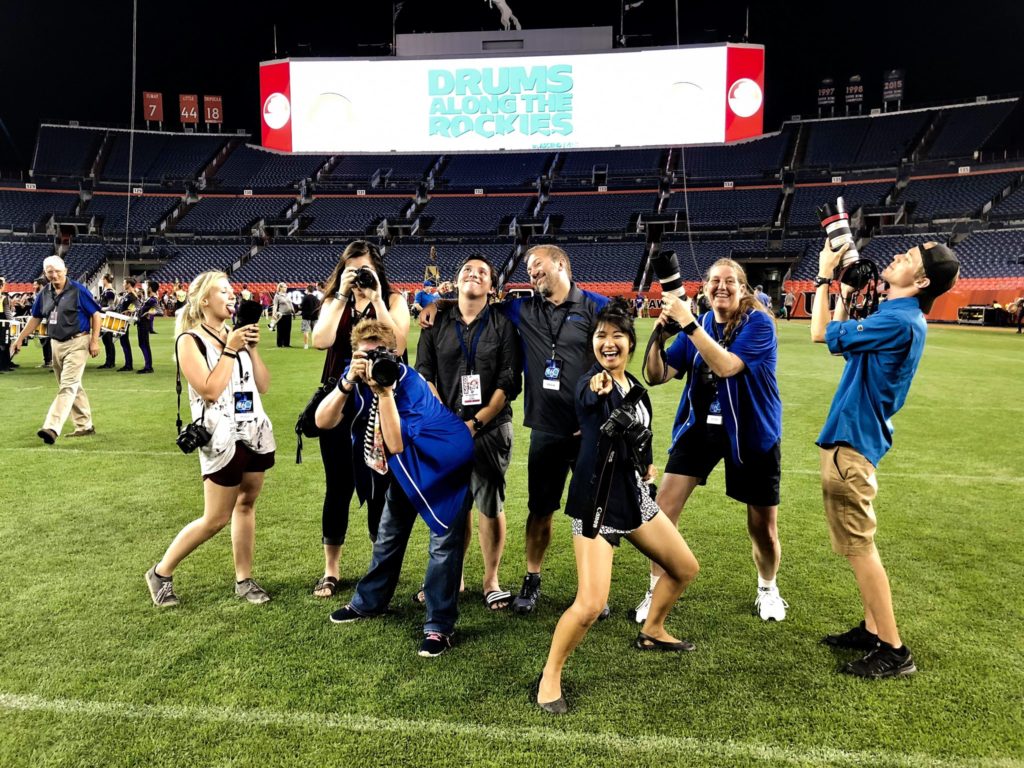 winter and summer seasons.
The Media Intern assists the Director of Communications with creating, developing, and implementing various video, social media and photography work for promotional use.
They will have the opportunity to cover various events with the Blue Knights Percussion Ensemble, the Blue Knights Winds, and Blue Knights Drum & Bugle Corps. This position may also assist with the development of comprehensive communications and marketing strategy and follow-through including print, digital, social media channels, and website management. The Media Intern will work both independently and as a member of the Media Team.
Predominant work will be assisting with Blue Knights ensembles and Ascend Events. Ascend internships are built to be flexible, make this internship your own in a fun environment to work on projects you wish to pursue!
An ideal applicant would have experience in media production with an emphasis on video and photography work.
Currently seeking Media Interns for:
– Blue Knights Percussion Ensemble
– Blue Knights Winds
– Blue Knights Drum & Bugle Corps
Location
Internships are located primarily at special event locations in the greater Denver-metro area and at the Ascend Performing Arts office on occasion:
Ascend Performing Arts
3538 Peoria St,
Suite 500 Aurora, CO 80010
Experience:
∴ Looking for individuals with videography and photography knowledge and a willingness to learn.
∴ Currently enrolled or about to be enrolled in a media-related field at the college level, including degrees in journalism, communications, film studies, photography or similar area of study.
∴ Experience and accessibility to Adobe Products is a must. Products including Adobe Premiere Pro, Photoshop, Lightroom. Experience in Adobe After Effects is a bonus.
∴ Be an efficient worker and meet deadlines.
∴ Prefer a candidate who is familiar with DCI or WGI experience. College student needing flexible internship with potential room for advancement encouraged to apply.
∴ Experience in social media management and development.
∴ 18 years or older.
Expectations
Ascend Performing Arts' small office environment means everyone plays an important role, and our interns are active members of the team. The real-world experience you will gain is invaluable, but be prepared to work hard among hard workers and achieve great things with us!
Media Internships are flexible based on the successful candidates' particular focuses of study and interests, so we encourage interns to let us know how they want to grow as young professionals. Ascend's Director of Operations will assign tasks based on the candidate's personal goals and skill set.
The Media Team is always open to creativity, and we'll give you room to make this internship your own. Bring a positive attitude, ideas that reflect your personality and a passion for music and the arts!
Responsibilities
∴ Gather and produce media at various Blue Knights ensemble rehearsals and Ascend Events.
∴ Assist with social media management and posting of content for posts.
∴ Produce content that supports Ascend's mission and vision.
∴ Deploy content messaging in support of Director of Development's fundraising campaign projects. 
Compensation
This unpaid internship can provide college credit, portfolio-building experience, a flexible schedule and valuable experience in the non-profit fundraising world.
Contact
For questions about this internship, please contact Ascend Director of Communications at communications@ascendperformingarts.org.