Tour Admin Intern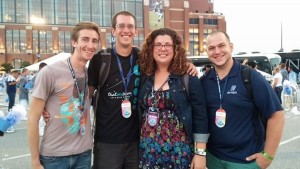 The Tour Admin Intern will be the main service support for Blue Knights Drum & Bugle Corps and provide administrative assistance for Spring Training and Summer Tour while reporting to the Tour Director. The position requires a highly motivated individual who looks to develop their administrative abilities in working with a world class performing arts program. Working with the drum corps as an intern is a fast paced job, requiring high energy with diverse tasks being performed each day. Although this is an unpaid position that provides valuable experience, a stipend may be offered depending on experience of the applicant.
Requirements
∴ 21 years or older.
∴ Valid drivers license with good driving record.
∴ Ability to lift at least 50 lbs.
∴ Own your own laptop with knowledge of Microsoft office suite.
∴ Available for entire summer May 15 – August 15.
∴ Preferred experience/knowledge of drum corps, marching band or indoor activity is helpful.
Responsibilities

∴ Assist admin team with logistics of camps, spring training and tour including facility awareness/oversight during move-in, stay and check-out.
∴ Assist transportation of staff & members to and from airports, medical appointments and general running of errands.
∴ Assist kitchen team with daily grocery shopping, inventory of supplies, and food deliveries includes help with restocking of weekly orders.
∴ Assist with general administrative record keeping, filing and preparation of tour books.
∴ Assist with logistics of uniform cleaning, equipment storage and general performance needs.
Questions: employment@ascendperformingarts.org.