DENVER, CO – Ascend Performing Arts was recognized at the 2022 Colfax Marathon Awards Ceremony at DeVita's World Headquarters where nearly 80 award checks totaling $100,000 were presented to all winning marathon relay teams to charities to cap off the Colfax Marathon weekend; an event and platform that helps nearly 200 nonprofits each year.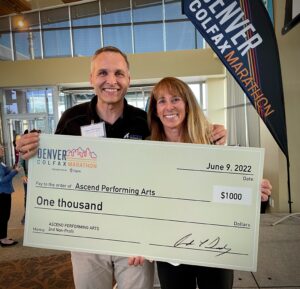 Over 60 winning marathon relay teams were recognized at the event in a crowd that included Denver's deputy mayor Brendan Hanlon who opened up the awards ceremony. Hanlon commented on the race, lauding its uniqueness as one of only three marathons in the country that incorporates charities. When the ceremony began, it was all smiles as teams went on to accept the awards with Colfax Marathon CEO Andrea Dowdy commenting on each group as they crossed the stage to accept an oversized check as well as a trophy. Ascend Performing Arts was recognized as one of the top teams placing 2nd in the Non-Profit Division for this year's Colfax Marathon Relay on May 15, 2022. The relay teams divided the 26.2 mile marathon into five increments of varying length.
As Ascend Performing Arts took the stage, Dowdy told the audience about Ascend as GM Kuzma, Chief Operating Officer, accepted the award and a check for $1,000.
"Since 1958, Ascend Performing Arts has promoted and supported music education and performance in the Rocky Mountain Region. Ascend has been a long-time Colfax partner since 2015. This year's 'Team Ascend' consisted of Jenna Ballard, Keenan Evans, Ethan Goddard, GM Kuzma, and Jordan Kuzma.  This year's fun fact: Team Member, Ethan Goddard ran his first-ever running race as a member of the Ascend Relay Team!" Dowdy said.
The team's top-3 finish is Ascend's second podium placement in the Non-Profit Division.  Ascend also placed 3rd in the same in 2015; its first year participating in the Colfax Marathon Relay.
Ascend also sponsored an Open Coed Division relay team ("Team Blue Knights") that included alumni of the Blue Knights Drum and Bugle Corps; Elyssa Bell, Kaitlyn Bell, Jake Robinson, and Blue Knights fan, Garrett Frierson.
"Ascend's continued involvement year-after-year in the Colfax Marathon has turned out to be a successful partnership with other community charities beyond the performing arts," said Kuzma. "It has also provided our Blue Knights members, alumni, and staff the opportunity to elevate their life performance through fitness."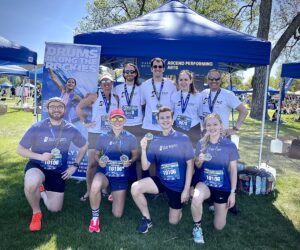 Over 190 charity partners participated in the 2022 edition of this historic marathon event, many of which could be found among the bright, blue-peaked tents of Charity Partner Village in Denver's City Park on the days of the races.  The Village was crowded with the excitement of around 20,000 runners, friends, and families, and served as excellent exposure for the non-profit partners. Not only was Ascend Performing Arts recognized as a frequent participant in the Colfax Marathon, but being in the Charity Partner Village gave Ascend the chance to gain some visibility and spread the word about what makes them special–it is a local organization with a global impact. Ascend's teams promoted its four mission areas revolving around ensembles, education clinics, events, and entertainment. They also connected with other Blue Knights alumni and runners who ran one of several distances such as the 5K, 10 Miler, Half Marathon, Full Marathon and the Marathon Relay. Ascend also promoted one of its premier events of the summer: Drums Along the Rockies.
Presence at this event helped Ascend gain some recognition not only through the Charity Partner Village, but also through the publicity before and during the event. One of the most cherished things about the Colfax Marathon is that it's all for charity, and they do their best to raise as much awareness about their partners as possible.
Ascend CEO, Mark Arnold, highlighted the mission of Ascend and how it furthers the mission to "Elevate Life Performance" on and off the field:
"We create a stage in which young people pursue excellence through music, through our performing ensembles (Blue Knights Drum & Bugle Corps, Blue Knights Percussion Ensemble, and Blue Knights Winds), which provides our 200+ performers with a vehicle to showcase their excellence to thousands of people worldwide. On top of that, Ascend provides a stage for these performers as well, through hosting of events like Drums Along the Rockies and Corps Encore during the summer, and Friendship Cup scholastic marching band shows in the Fall. Ascend also stresses the importance of music education, and thus hosts multiple BKXperience clinics year-round that reach thousands of students," said Arnold.
Both teams finished in great time, the Ascend Team finished in 3 hours and 58 minutes. The Blue Knights Team's finishing time was 3 hours 38 minutes. Their speedy pace landed them in 24th place out of the 165 teams in their Open Coed division. At the end of it all, it was an invaluable experience for Ascend Performing Arts to embody the connection between fitness and the performing arts. And Ascend looks forward to taking part in another amazing Colfax Marathon weekend next year.
Want to Run for Ascend in 2023? Let us know! Email us at [email protected].