COMMENTARY: Super Bowl Band
PHOENIX, AZ – World Class Drum Corps meets the world's greatest performers in Phoenix this past weekend, at Super Bowl XLIX.   James G. Hudson, director of the Arizona State University Sun Devil Marching Band, has made the most of his student's marching experience with the SDMB.  From being seen by more than 100-million people on television to standing on stage next to Katy Perry dressed as palm trees, I would say that there were exceptional opportunities for the marching arts to be represented this year.  This entertaining group of hundreds performed their versions of Bruno Mars' "Uptown Funk" and Taylor Swift's "Shake It Off" to tens-of-thousands during pregame, as well as performing with Katy Perry during the halftime performance.  These events starred Arizona natives, students, alumni, and current members of The Academy Drum & Bugle Corps (who had their own performance over the weekend as well), Blue Devils, Bluecoats, Santa Clara Vanguard, and the Blue Knights!
A couple of Blue Knights alumni and SDMB members gave their overall impressions of Super Bowl Sunday from a backstage perspective.
Afsoon Noshiravan, a 2014 Blue Knights Drum & Bugle Corps color guard member, mentioned the amount of logistics needed during the halftime chaos was different from what she expected.  To her, the massive crowd at University of Phoenix Stadium felt very similar to Lucas Oil Stadium, a familiar home for most drum corps fanatics.
Victor Rosas, a two-year veteran and captain of the Blue Knights Drum & Bugle Corps color guard shared his experience during the pregame performance: "There were no worries or stress about judges or competitors, it was just us doing what we loved to do having the time of our lives–even if was just for a few minutes," he said.  "It was a once in a lifetime opportunity and I am very thankful to everyone who made this happen."
Blue Knights Drum & Bugle Corps Color Guard Caption Head Brandy DuBose is a Senior Specialist at Arizona State University and is involved in making many of the SDMB events happen.  Brandy and her devoted staff are involved in the success of the color guard programs both at ASU and Blue Knights.
In the real world, being in band has never before brought so much attention and popularity.  I mean, who else could have successfully stood in a Pepsi logo drill-form while holding color-coordinated balloons at the beginning of halftime?  As a growing musician and Blue Knights Drum & Bugle Corps color guard alumni, there is a constant desire to share my experience with others.  Everyone out on the field Sunday had an opportunity to share their passion of performance, but with millions in the audience.  Events such as Super Bowl XLIX give a whole new meaning to the possibilities this activity entails, and to open doors that have yet to be opened.  Who knows, you too could end up in a shark suit dancing with Katy Perry!
---
ABOUT THE AUTHOR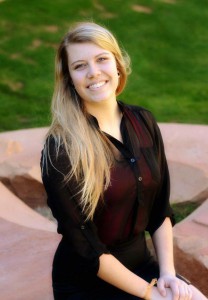 Sarah Anderson is graduating with a Bachelor's of Science in Communication from Arizona State University in May 2015.  Her experience in the marching arts consists of 3 years with The Academy Drum & Bugle Corps color guard (2011-2013) and has aged-out with the Blue Knights Drum & Bugle Corps color guard in 2014.  Sarah is currently marching her third season with the world class Winter Guard International finalist FeniX Independent winter guard under the instruction of Brandy DuBose, Rob Jett, Emalee Kengott and Adam Selby, all of whom are current Blue Knights Drum & Bugle Corps Color Guard staff.
In addition to her experience with color guard, Sarah has been surrounded by an entire family of musicians and has played both the piano and violin since early childhood. Sarah is very excited about what this summer has to offer and will now have an opportunity to look at the other side of things, from a previous insider's perspective.