HENDERSON, CO – The Blue Knights Drum and Bugle Corps was visited by a special guest last Sunday. Sam Pilafian, the co-author of "The Breathing Gym", stopped by Prairie View High School to work with the drum corps. Pilafian not only co-authored the book that musicians nationwide use in their classes, but has also taught music at the collegiate level, is a member of the Boston Brass, and has recorded worldwide and is a nationally recognized musician.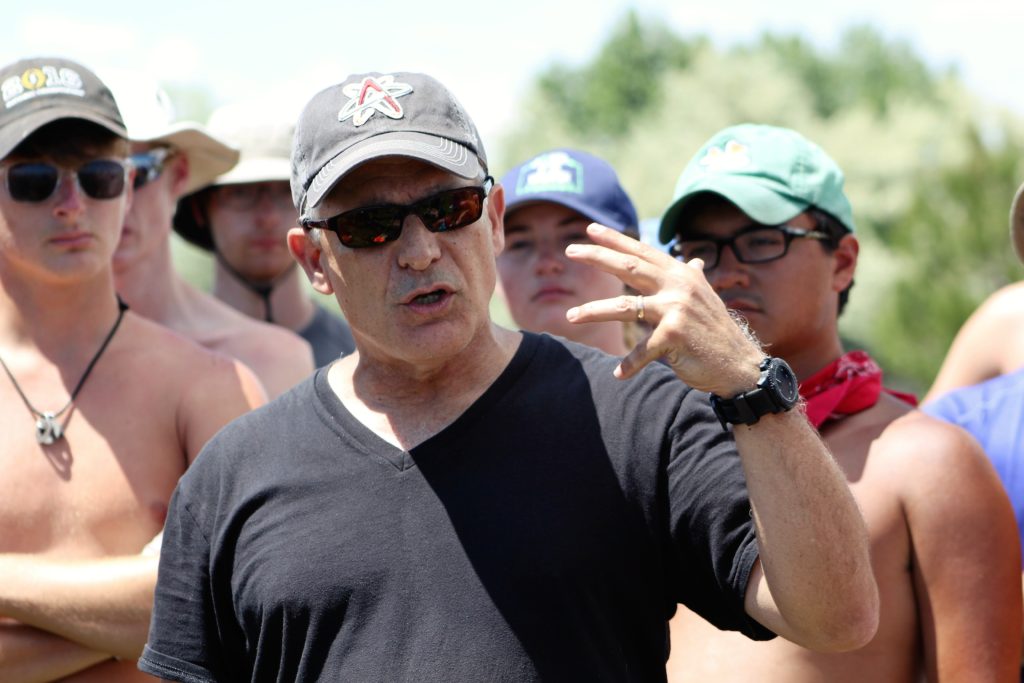 Pilafian specializes in basics and primarily worked with the horn line to improve everyday techniques. He went through the "breathing gym" to focus on the techniques that will help improve the young musicians.
Pilafian said during rehearsal that "if you think about one thing at a time, you can juggle several." In one of his demonstrations, Pilafian had the students beatbox before playing to practice recognizing sounds and staying on beat.
Pilafian, who has worked for Drum Corps International since 2002, said that his goal to teach was for "less work, more sound" as he left a message of efficacy with students and staff alike.
The contra section took a particular shine to the renowned tuba player. Jackson Miller said "It was a really unique experience, and I definitely didn't think I'd ever meet him at drum corp!"
Pilafian had been communicating with the Blue Knights for several months to work with the  drum corps, and was pleased to attended a day of spring training.
"I was impressed with their dedication to get better, it was awesome!" Pilafian said following the rehearsal.
Students and staff of the Blue Knights cited Pilafians teaching as "insightful". Jackson said "I've done (The Breathing Gym) a thousand times, but it was different with him."
"It has been an honor to be here, I'm very excited to see where it goes," Pilafian said regarding the Blue Knights and their 2016 production The Great Event (learn more about the show here).
For more information on special guests or news, follow The Blue Knights Drum and Bugle Corps on Facebook. Find out how you can get involved here.