Blue Knights 60th Anniversary Alumni Performance & Celebration Details in 2018

DENVER, CO – We are very excited to announce the participation information for the Blue Knights 60th Anniversary Celebration! The weekend of events happening around Drums Along the Rockies (DATR) in July of 2018 promises to be filled with fun, laughter, and lots of great reminiscing with friends and family.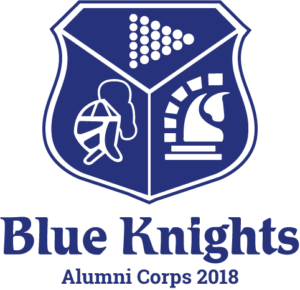 The Blue Knights Alumni Corps Performance is available to past members of the Blue Knights Drum & Bugle Corps, Blue Knights Percussion Ensemble (World and Open), Blue Knights Winter Brass, The Stampede Drumline, Broncos Brass, Opus X Winter Guard, and Oracle Winter Guard. Available sections will be Bb/F marching brass (trumpet, mellophone, baritone, tuba), battery percussion (snare, tenors, bass, cymbals, and front ensemble), and color guard (flags and rifles).
Alumni who are unable or choose not to perform with the brass, percussion or color guard can still be part of the performance by joining the American Flag Color Guard detail (all performance fees still apply).
The 60th Anniversary Party is open to the public and everyone is welcome to attend with a ticket!
To be a part of the first Blue Knights Alumni Corps, participants will need to pay the performance fee of $200 by no later than November 15th, 2017.
Performance Fee includes:
Lunch on rehearsal days during DATR 2018 week

Blue Knights Alumni Polo Shirt & Khaki Pants for performance. Measurements necessary for registration (performers will supply their own black shoes (brass & percussion), or black leggings and shoes (color guard)

Ticket to Drums Along the Rockies show

Ascend Performing Arts Alumni Association 2018 Membership

Ticket to 60th Anniversary Party

SmartMusic subscription with access to warm-up and show material
We are also offering additional add-ons to help remember the event and to have your family and friends join in on the fun:
Special Alumni VIP Package – $40

Includes Barbecue Dinner before show, Blue Knights Alumni Sticker, Blue Knights Alumni Shirt

Blue Knights Age-Out Dog Tags (for BK age-outs only) (link) – $15

Performance Flag – $40

One of the actual silks used in performance (limited number available)

Additional Ticket to 60th Anniversary Party – $30 each

Additional Drums Along the Rockies tickets for guests – To Be Determined

Additional Lunch Tickets for guests – $15 each
If you are unable to be part of the performance or choose not to be in the performance, you are still welcome to join in the festivities by purchasing the add-on options.
Options can be purchased up until May 31st, 2018.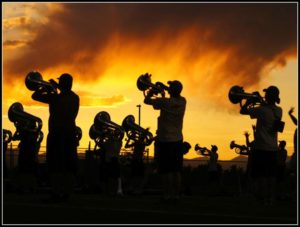 The performance will consist of medleys of Blue Knights' "greatest hits" including but not limited to:
Trittico

Chaconne from First Suite in E Flat

Savannah River Holiday

I Go On

A BKPE Percussion Piece

…and more!

Followed by a special combined performance of

Can't Take My Eyes Off You

with the 2018 Blue Knights Drum & Bugle Corps
Preparation will involved the following:
Warm-up, practice, and performance material available in the Fall of 2017

Local sectional rehearsals on a monthly basis (currently in Colorado and Utah and planning more locations!)

Music will be available on SmartMusic or via email upon request

Color Guard work will be distributed via YouTube video in the Fall of 2017

Minimal drill involving field entry and several stand & play sets w

ill be taught during rehearsal days prior to 2018 DATR performance.
Note: Drill will be easy enough for all participants and accommodations will be made for those who want to play but are unable to march. 
Registration and Deadlines:
November 15, 2017 – Deadline to register/pay to participate
Join the Blue Knights Alumni Corps Facebook page to be a part of the discussion.
All questions should be asked through our event Facebook page (here) or email alumni@ascendperformingarts.org.
We look forward to welcoming Blue Knights Alumni from all over the world to celebrate 60 years of tradition, success and lifelong friends!


---
Related posts: