DENVER, CO – The 2022 Rocky Mountain Rivalry has come to a successful conclusion, and thanks to your donations the Blue Knights Drum & Bugle Corps was victorious for the 8th annual edition.
Blue Knights raised $85,107
Troopers raised $80,757
Mandarins raised $79,484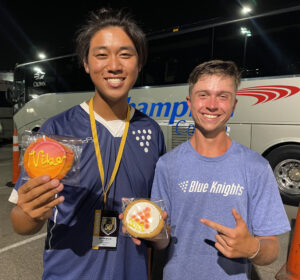 While the Blue Knights won the challenge this year, the real winners are all three drum corps who will be able to use these funds to finish out the 2022 season strongly.  The campaign was competitive (with some friendly back-and-forth between Blue Knights, Troopers, and Mandarins) which aided all three participating corps to collect record donations for the 8th year of the "Rivalry".
The funds collected for the Blue Knights will help "Feed the Knights" and pay for rising fuel expenses for the 2022 DCI national tour.  Supporters also donated to the Blue Knights Equipment Trailer replacement campaign as well as the Blue Knights Scholarship program.
This year was particularly challenging with the food and transportation budget doubled in costs compared to past years due to inflation and global supply chain disruptions. These funds also help the Blue Knights program grow on and off the field.
Whether you donated $5 or $10,000, please know that your donations helped us surpass our goal! We are very grateful for your support of the Blue Knights Drum & Bugle Corps, one of Ascend's programs dedicated to transforming hard working young people into high performance adults through the lessons that only competitive musical performance provides. The Blue Knights, Troopers, and Mandarins would not continue to exist without the help of our BK Family and supporters!
Our Blue Knights donor honor roll includes alumni, parents, fans and supporters of the Blue Knights–a diverse group of humans whose common ground is the wish to see programs like ours not only survive but thrive in the years to come. Your support helps the organization provide quality experiences for the 2022 members who performed in a much acclaimed, innovative show production called VIBE.
Thank you for helping ensure that programs like the Blue Knights continue to be available for young men and women across the country and around the world.
---
It's not too late!  Click below to support the Blue Knights in 2022 by contributing to one of these campaigns: