Alumni Spotlight: Alyssa McCollum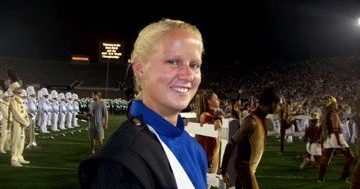 Name
Alyssa McCollum
What year(s) did you march in the Blue Knights? 2003 – BK Open, 2004-2006 BK World, 2003-2008 Drum Corps
What section? Front Ensemble
Where did you attend high school? Fort Morgan High School
Education beyond high school? Colorado State University – Music Education
What is your current occupation? I just accepted the Orchestra Director position at Legend High School in Parker, CO. I am also the COO of The Battalion Drum and Bugle Corps. In my spare time, I hand-dye yarn and sell that, too.
Why did you choose to march with the Blue Knights? Initially, it was because I needed a place to play music where people cared. I lived in a small, rural town with about 35 students in the band program, and not many really cared about being good. Once I had my first experience with Blue Knights, I knew I wanted to stay until I aged-out.
What is your favorite drum corps memory? I have a lot over 6 years in the corps. Any Drums Along the Rockies show is definitely up there. 2004 DCI Finals in Denver was pretty great, too. I can still remember the sound of the fans cheering while we waited in the tunnel and their reaction when Jen Burns (the drum major) was wearing the Dots at Finals.


How have the Blue Knights impacted your life? I wouldn't be who I am or where I am today without the Blue Knights. I became a music educator because I fell in love with the process of creating music, I met my husband in the Open Percussion Ensemble, and I learned what it was to work hard and work through hard things. I also had the privilege of working in the Ascend office, and the many things I learned there have helped The Battalion as an organization. The knowledge and care everyone at Ascend has for the percussion ensemble and drum corps is amazing, and I am so glad I could be a part of that for a small time.

What are some the Blue Knights' core values/principles that have resonated with
you in life? That drum corps isn't just about being a great performer, it is about becoming a good human. There are so many life lessons you learn in drum corps that you carry with you long after the season has ended. Sure, I can still play a surdo/cowbell part from 2003 Primary Colors, but the fact that I learned to work hard, to adjust to constantly changing surroundings, and work with others. Those lessons and many others still live within me today and help me work towards being a better person.
What advice would you tell someone considering trying out for the Blue Knights? DO IT! And remember that the techs and instructors are working to help you become the best you can be. Their feedback might be hard to hear, but it is with the intent of improving you, not to make you feel bad. Then, take that feedback, work on it, and blow them away at the next event.
---
∴ Want to be featured in a future Alumni Spotlight? Fill out the  Alumni Update form here or email: Alumni@AscendPerformingArts.org