Alumni Spotlight: Matt Seltzer

Name:
Matt Seltzer
What year(s) did you march in the Blue Knights?
2005
What section?
Euphonium
Where did you attend high school?
Silverado High School, Las Vegas, Nevada
Education beyond high school?
Bachelor of Science in Marketing – University of Nevada-Las Vegas
Masters of Arts in I/O Psychology – Argosy University
What is your current occupation?
Senior Market Research Analyst, Las Vegas Convention and Visitors Authority; also Adjunct Faculty, Marketing, The Art Institute of Las Vegas; also I have a pretty successful freelance marketing business.
Why did you choose to march with the Blue Knights?
I marched with Pacific Crest Drum & Bugle Corps in 2004, and wanted to march with a more competitive corps. Blue Knights had a great show in 2004, and it really drew me to audition the following year.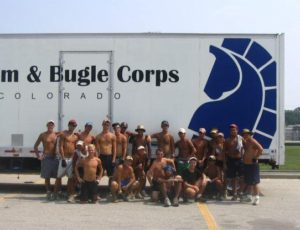 What is your favorite drum corps memory?
Somewhere mid-season, Santa Clara Vanguard Drum & Bugle Corps and the Academy Drum & Bugle Corps (then Division II) met up with us at Pueblo High School in Pueblo, CO. We set up all three food trucks in a big triangle, and all three corps ate from each others trucks. We had a big meal together, then everyone suited up, and we played our shows for each other (full runs, not just stand stills). It was super casual and super fun, and made for a really fun drum corps experience.
How have the Blue Knights impacted your life?
I taught myself how to play the horn for the 2004 season with Pacific Crest, and in 2005 with Blue Knights I had to get even better at the horn, this time to learn bass clef (I was a clarinet player before this), and learn a completely new marching style.
I struggled, but I finished the season, made DCI Finals, performed for literally thousands of people in Gilette Stadium. Today, when I face challenges in my career, or with my family, or just in life in general, one of my biggest sounding boards is telling myself "look, you taught yourself a new instrument and performed it less than two years later at a huge venue in front of thousands of fans. You can definitely handle this!" (regardless of what "this" is).
What are some the Blue Knights' core values/principles that have resonated with you in life?
Whatever you do in life, be a bad ass. Everything we did that summer, we told ourselves we were bad ass. That resonated in everything we did, whether it was performing the show, or doing warmups, or just walking to the field. We were Superman, Batman and Wonder Woman all rolled into one. We were awesome because we chose to be awesome. That's a choice you can make in anything you do in life, and it has the exact same payoff.
What advice would you tell someone considering trying out for the Blue Knights?
Cherish the experience, whether you make the Blue Knights or not, whether you march or not, whether you make Finals or not, whether you love it or not. Cherish the experience. There is nothing on this planet quite like drum corps, and there's no drum corps quite like the Blue Knights. However long your experience is with the corps, someday, there will be a time where you can't do it anymore. When that time comes, the moments you cherished, the experience you cherished, will be some of the best and brightest parts of your life if you let it.
What are you looking forward to most about the 2018 Alumni Corps celebrating our programs' 60th and 25th anniversaries?
I wish I could be a part of this, but my wife and I found out we were pregnant with our second daughter about a month after this was announced, and I just had to throw in the towel on practicing my horn again. What I'm looking forward to most is somehow sharing the experiences of drum corps with my daughters, and probably through live streaming, share Drums Along the Rockies with them so they can grasp even just a little of the amazing day in a Blue Knights' summer that is Drums!
How would you like to see other Blue Knight alumni get involved in the organization?
We have Blue Knights all over the world. I'd love to see ambassadors from the corps connecting with younger members, or even other alumni.
---
∴ Want to be featured in a future Alumni Spotlight? Fill out the Alumni Update form here or email: Alumni@AscendPerformingArts.org