Alumni Spotlight: Susan Tubutis
Susan Tubutis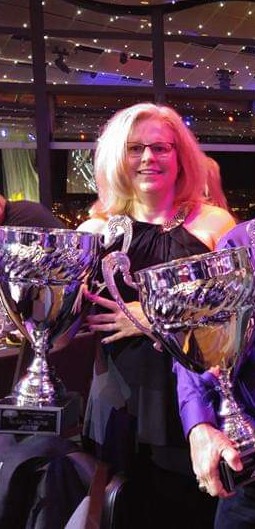 The year is 1982, the first of my four years marching in the Blue Knights. It's June, I am driving my dad's 1965 Corvette down sixth avenue in Denver toward Golden. Asia's "Heat of the Moment" is playing on the radio. Blue Knights rehearsal will be underway shortly.  My baritone barely fits behind the driver's seat, I am driving a friend to rehearsal as well. Her flugel horn doesn't fit behind the seat, she is holding it between her feet on the passenger side.
As we arrive at rehearsal, other members are getting out of their cars and talking about the day. We're preparing our show to take on the road to the western slope of Colorado; Montrose, Grand Junction, it was to be a four-day pre-tour trip.  
A drum and bugle corps at this time has a maximum of 128 members. Our membership is a few people short of that number, most of us living in the Denver area. The Blue Knights are getting our transportation from Trailways.  My first taste of tour is this four-day trip, which helps me prepare for our upcoming time in California. I learn that I need to keep some sort of water container with me on the bus. Learning to sleep on the bus is an ongoing challenge.
Our time in California begins in the small town of Gustine. We are all tired from our travel from Denver. As we get lined up for rehearsal, one of our baritone players, nicknamed "Bucky," leads us in some stretches. Most of us are new to the drum corps experience and are trying to push through fatigue and get ourselves functional.
Scoring of drum corps performances in the early eighties is based on a starting point value of 100, with "tics" assessed as errors are made by performers. Errors can be anything from a dropped piece of equipment to a bad note coming out of brass, or synchronization problems by percussion. I think it was ten tics per point deducted from 100. Others can correct me if I'm wrong.  The Blue Knights program is relatively simple, and our uniforms are homemade. We score somewhere around 40 points for our show. We are having fun performing, but the caliber of our program isn't very high.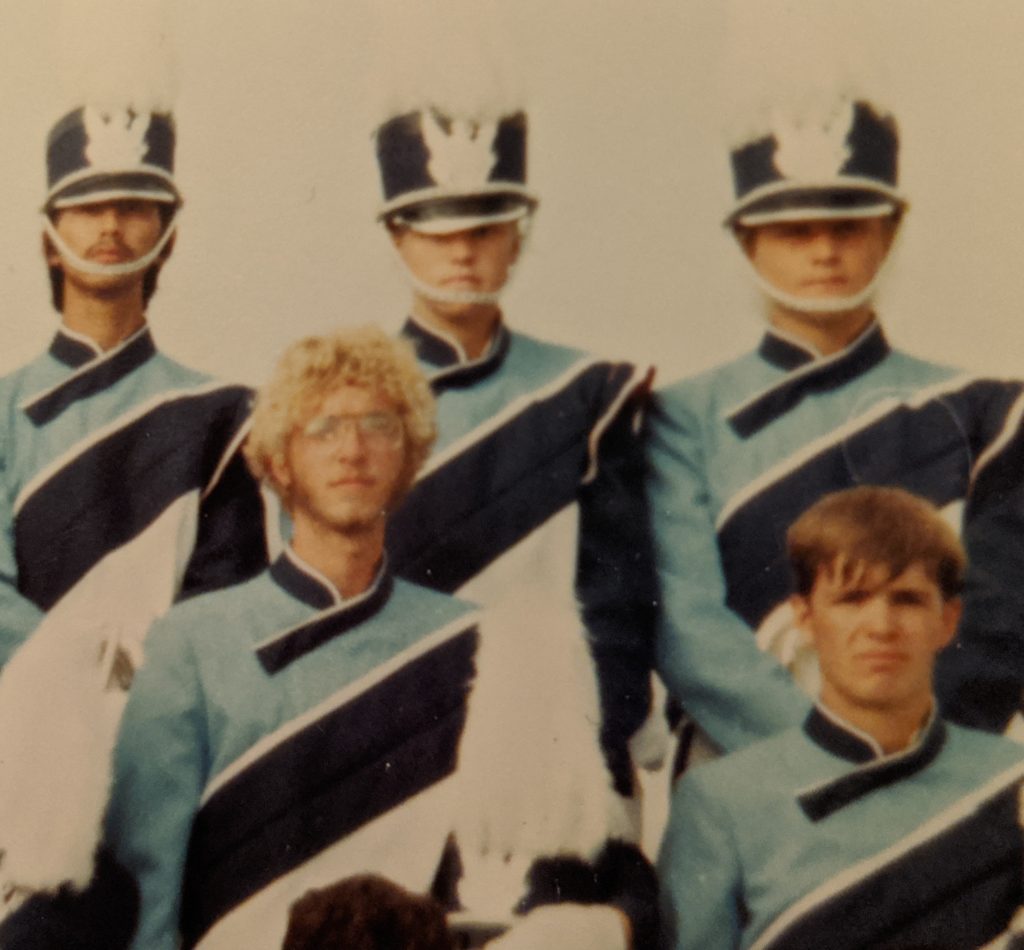 At the beginning of the 1983 season, the Blue Knights purchase buses from an Arizona-based (I think) Sun Valley Lines. They are decorated in orange and yellow. We add bus numbers in place of the numbering system used by the previous owners. Travel with these new buses means acquiring drivers. It also means numerous breakdowns during our first year of bus ownership. One of them even runs out of fuel, as we are still learning how to plan in this regard. Other mechanical problems include air-conditioning malfunctions. This had a larger impact on "bus one," as there were no sliding windows on that vehicle as there were on buses two and three. It was like a rolling inferno, as windows could only be opened when we were stopped.
Though the Blue Knights Drum and Bugle Corps were not high in the national standings, we don't even go to DCI championships for the first time until 1983, my experience marching in the summer helps me with my high school marching skills. I am a participant in the Smoky Hill High School marching band program. As a sousaphone player for two of my four high school marching years, I continue to improve my playing and marching skills. These skills contribute to my performance abilities in the drum corps. I would say that the bigger ability I acquire from drum corps is the management of difficulties within a performing group. Stress management skills are developed on the summer tour. We all use these skills in our day to day lives. Dealing with broken-down buses, bad weather, a less than optimal performance, even problems getting along with each other. 
Moving on to my Colorado State University years, I am a participant in the Blue Knights through the summer following my freshman year. The 1985 season presented numerous challenges outside of the ordinary, and I am pretty tired at this point. I don't even march with the CSU band, a decision I regret later.  I do, however, perform on sousaphone with the CSU band during basketball and volleyball games. I play the contra bass clarinet in the concert band. I also learn to ring handbells within the CSU music department. At this time, Colorado State University is known for having a great music program for non-music majors. As I am studying science as a pre-veterinary student, I am enjoying these musical opportunities. 
As a student, I realize I have learned valuable time and stress management skills from drum corps. I declare a major of Biological Science and am studying chemistry, physics and math in addition to my favorite anatomy, physiology, and other life science courses. Ultimately I do not apply to veterinary school, but take a year in addition to my biology degree to become licensed in the clinical lab.
My career for thirty years now is as a clinical laboratory scientist. Loosely translated, that means I operate and maintain the large analyzers that perform blood tests for hospitalized patients. This can be a very stressful job. We perform some manual testing as well and provide blood for transfusion to surgical and trauma patients. The stress-management skills learned early in life as a Blue Knight do translate to this kind of work.  
Hard work and dedication to personal goals has helped me to build a life for myself. Becoming a homeowner, starting various hobbies, working to get better at said hobbies, all come from lessons learned in drum corps. The activity of drum corps was described to us members by George Lindstrom back in 1984 as "the art of overcoming adversity."  Life provides constant challenges. We develop the strength to overcome these challenges during our drum corps years for our lives beyond. "I Go On" became a mantra with the Blue Knights long after my marching years, but it has been a real thing always.
As I look back on my younger years, I believe my decision to march with the Blue Knights was inspired by watching the DCI championships on television. It was around 1980, and the Blue Devils were performing. They were amazingly good, and I was impressed by what must have been a great dedication by the members.  I wanted to be a part of a performing group where the members actually cared about how good their program was. Quite frankly, my musical performance experiences up to that point were lacking this dedication and care. I became aware of the Blue Knight in the fall of 1981 and attended my first rehearsal at the Arapahoe County Fairgrounds two weeks short of my sixteenth birthday.
When the Blue Knights announced the Alumni Project for performance in 2018, I was one of the first to sign up. What an amazing opportunity to perform again!  I am so grateful to have had this opportunity. Following essentially thirty years with very little musical participation on my part, I jumped in with both feet. The drum corps activity had undergone many changes since my youth, from an increase in maximum membership to three-valve bugles pitched in b flat for lower brass. I suddenly had no idea how to read the music, as the valve combinations from my tuba experience did not translate to the baritone music. Despite this challenge, I was having so much fun! My fellow baritone players at our local Denver rehearsals were helping me mark my music with valve fingerings. At one point I experienced the magic of translation to trumpet-style music with familiar fingerings. I believe CJ Garcia did this for me. Suddenly I could read music again! That was awesome.
Having not played for so long, I didn't start out as much of a musician.  Thankfully, we had something like a year and a half to prepare for our 2018 Drums Along the Rockies performance. Over this time I began to remember how to play, use proper breath support, and perform again.  I cherish all my memories of these alumni rehearsals. It felt like I was a kid again. I was one of the oldest performers in the alumni project. I was grateful to have other members of my generation participating with me. My favorite memory was the feeling I got at the end of our program at DATR, the audience cheering for us. What a rush, remembering why we all got involved in musical performance in the first place. Few things can replicate that feeling.  I deeply appreciated performing with and interacting with the 2018 Blue Knights. We had so much fun performing "Eyes" with them. I am hoping we also perform "Away" with the members in the next Alumni Project.  
I eased into more involvement in the Blue Knights somewhere around 2014-15. I participated in a commercial shoot for Furniture Row.  We were in Blue Knights uniforms, pretending to march in a parade. That was the beginning of my re-entry into my love of the activity. I have done limited volunteer work for the corps. I have some physical problems that keep me from doing more, though I'd like to increase these activities. My work schedule also limits these opportunities for me, but I very much have enjoyed what little I have done. I would encourage any and all alumni to fit in what you can. I know it can make us all a little jealous that we aren't that young anymore. 😊
If you are a prospective Blue Knight, I would say work hard, enjoy every minute. It all goes by so quickly, and if you are anything like I am, you will look back on these times as some of the best of your life.
Susan Tubutis
BK Baritone, 1982 through 1985
---
∴ Want to be featured in a future Alumni Spotlight? Fill out the  Alumni Update form here or email: Alumni@AscendPerformingArts.org