Ascend Partners with KHS America Academic Alliance


DENVER, CO – Ascend Performing Arts is pleased to announce a partnership with KHS America Academic Alliance (academicalliance.com), a community-based organization that supports students, performers, educators, parents, school music retailers and those who design and craft the instruments to bring music to life.
In addition to KHS America assisting Ascend Performing Arts with supporting their educational events, the Academic Alliance will benefit as well. Through the BKXperience Clinics and Spark! Ideas Conferences, Ascend Performing Arts helps provide forums and discussion groups with the KHS America educator base where ideas can be exchanged. This allows KHS America member schools the ability to have discussions not only with the Blue Knights but also with the KHS America roster of artists across KHS America's brands. It is an exciting program where both organizations will be working together to enrich the banded experience for everyone involved.
"We are very excited to expand our partnership with the KHS America through the Academic Alliance," said Mark Arnold, Executive Director of Ascend Performing Arts. "Our mission closely aligns with KHS America's commitment to the musician, music educator, and the performer. It is a great fit!"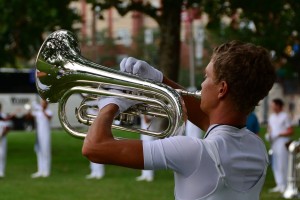 Working under a philosophy to support music education and community since 1930, Jupiter's parent company, KHS Musical Instruments Co., Ltd., has become one of the largest musical instrument producers in the world today. Incorporating some of the fastest growing brands today, KHS offers a full line of quality instruments to school music programs and individual players. At the very foundations of this community, we recognize the importance of the important symbiotic relationship between School Music Programs, School Music Dealers, and the Instrument Manufacturer. In order to foster this connection, we have developed the KHS America Academic Alliance to support music education in the spirit of collaboration.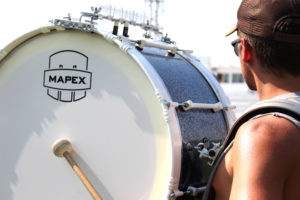 "The Blue Knights have been performing on Jupiter Winds (jupitermusic.com) and Mapex Marching Percussion (mapex.com)and Majestic Percussion instruments (majesticpercussion.com) since 2012 and have long been recognized as leading innovators in marching arts creativity design and performance," said Chris Hankes, School Unit Business Manager for KHS America. "We are looking forward to doing more with Ascend Performing Arts' educational initiatives such as the BKXperience clinics and Spark! Ideas conferences."
Learn more about the KHS America Academic Alliance at academicalliance.com.
---
About the Blue Knights Drum & Bugle Corps
Since 1958, the Blue Knights Drum & Bugle Corps has established itself as one of the elite groups of its kind in the world. A perennial Drum Corps International finalist, the Blue Knights are renowned in the activity for excellence in symphonic music, intricate visual choreography, and an unwavering commitment to innovation. Learn more here.
---
---
Click below to register for the 2018 Fall BKXperience-Audition! Clinics today!