Ascend Performing Arts Selects BKPE Director

DENVER, CO – Ascend Performing Arts is pleased to announce the Blue Knights Percussion Ensemble leadership for the upcoming 2020 season.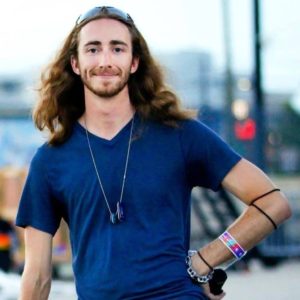 Keenan Evans has been named the next Director for the Blue Knights Percussion Ensemble. He will succeed Mike Nevin who has served in the role from 2016 – 2019 finishing off with a strong finish at WGI World Championships with the ensemble's highest finish since 2015.
"For over 25 years, Mike has served the young people in the WGI activity, never seeking the spotlight, and has always done so with an eye of bettering not only the Blue Knights, but the percussion activity as a whole," said Mark Arnold, Chief Executive Officer, Ascend Performing Arts. "We wish him well with his new endeavors and look forward to working with him in support of his mission to improve the quality of the overall percussion ensemble activity."
The 2019 Blue Knights Percussion Ensemble went undefeated in Rocky Mountain Percussion Association (RMPA) competition and advanced to WGI Semifinals in Dayton, Ohio. The Blue Knights are a 4-time WGI Percussion Independent World Champion and longest-running percussion ensemble associated with a drum corps.
Mike Nevin lauded the dedication and efforts of the Blue Knights Percussion Ensemble's staff team: "I'm proud of building a staff that will not only improve the level of education for the members and their ability to compete at a world class level but, ultimately, creating an extremely positive environment and experience for them. I feel that the Blue Knights are in excellent hands with the staff and designers who are now in place."
Keenan Evans has been involved with BKPE as a member of the staff since 2015, initially working as a visual instructor. After graduating from high school, Keenan first marched with the Blue Knights Drum & Bugle Corps from 2010 – 2012 and then marched BKPE for the 2013 & 2014 seasons. After aging out of the corps, he worked with the Blue Knights on the administrative team as a tour manager and has done so from 2013 to present. He has been the ensemble manager for BKPE since 2018. Keenan holds a Bachelor of Science in Mathematics from the University of Colorado Denver.
"I look forward to seeing this ensemble continue to grow and improve off the great strides we made last season and I'm excited by the planning and work for the 2020 season already underway," said Keenan.
The rest of the 2020 Blue Knights Percussion Ensemble staff, BKXperience Audition Clinic and Camps and the program announcement will be announced in the coming months.
---
Join the 2020 Blue Knights Percussion Ensemble in Winter Guard International and Rocky Mountain Percussion Association this season!