Ascend Presents Drums to Standley Lake High School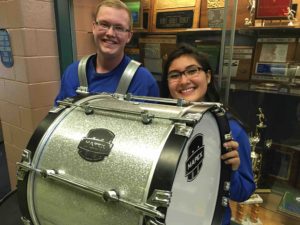 DENVER, CO – Ascend Performing Arts recently presented a new set of Mapex marching drums to the Standley Lake High School marching band program in appreciation as a Partner in Education.
As a Partner in Education, Standley Lake High School assists Ascend Performing Arts carry out its mission of "elevating life performance" through its focus areas of Ensembles, Events, Entertainment and Education.
"We have had a number of education partners over the years that have provided support to the Blue Knights in a mutually beneficial way," said GM Kuzma, Director of Education for Ascend Performing Arts. "We are excited to seek more opportunities in giving back to the local schools in the region and help them succeed amidst declining education budgets."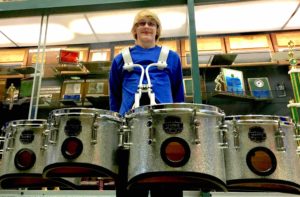 Standley Lake High School has graciously assisted the Blue Knights Percussion Ensemble by providing shared rehearsal space with the school's new indoor winter percussion ensemble. The Blue Knights-Bahrain ensemble also rehearsed at Standley Lake High School in preparation for their upcoming International tour to Bahrain. The school was the host for the inaugural Mile High Guard Festival–a collaborative effort between Ascend Performing Arts and the Rocky Mountain Color Guard Association–held last August 2016.
"We are so grateful for the opportunity to partner with Ascend and the Blue Knights this year!" Crissy Duran, Standley Lake High School Band Director said. "The impact it has made on the music program at Standley Lake goes beyond new equipment, clinics, and design. The students are seeing first hand what hard work and dedication to excellence look like, and are inspired to reach beyond what they once thought possible."
In exchange for their support, Ascend Performing Arts has provided show design consultation and performance instruction to the Standley Lake High School "Gator Pride" Marching Band as well as with the newly formed Standley Lake High School Indoor Percussion Ensemble. The Blue Knights Percussion Ensemble has also provided clinic sessions with the school's students during their weekly rehearsals.
"It is our belief that elevating the level of excellence of our music and performing arts in the Rocky Mountain Region comes with supporting each other's programs by working together," said Kuzma. "We are stronger together when we build each other up."
Want to become a Partner in Education with Ascend Performing Arts? Contact us at education@ascendperformingarts.org.
---