Blue Knights 2015 Season Banquet Awards

INDIANAPOLIS, IN – On Tuesday, August 4th, the 2015 Blue Knights Drum & Bugle Corps  hosted their annual Awards Banquet at Arsenal Technical High School in Indianapolis.
After a full day of rehearsal, the members and staff were released to get dressed for the evening's festivities with an island theme. Volunteers and cook staff worked hard to provide a good home-cooked meal for them.
After watching the 2015 show video of "Because…" and enjoying a delicious dinner, Mark Arnold, Blue Knights executive director, welcomed everyone to the special event and thanked the numerous volunteers, drivers, admin team and staff who have made this historic season possible. He also thanked the 150 members for their dedication to bring "Because…" to life. Mark then turned the stage over to the Blue Knights Drum & Bugle Corps caption heads to present their section awards.
Color Guard Caption Awards 
Most Improved: Megan Ng
Rookie of the Year: Dakota Williams
Outstanding Performer: Roxanne Roy
Brass Caption Awards 
Most Improved: Julian Willis
Rookie of the Year: Madeline Kelly
Outstanding Member: Jaime Morgan
Percussion Caption Awards 
Front Ensemble…
Most improved: Anne Kane
Rookie of the Year: Aaron Mincey
Outstanding Member: Anthony Lederhos
Battery…
Most Improved: Miles Membreno
Rookie of the Year: Donovan Alanes
Outstanding Member: Paul Kim
Visual Caption Awards 
Most Improved: Jimmy Keller
Rookie of the Year: Weston Donati-Leach
Outstanding Performer: Grant Vincent
Organization Awards 
Zildjian Outstanding Percussion Award: Cameron Brown
Becky Brown Color Guard Memorial Award: Sarah Pichardo
Tige Boxwell Brass Memorial Award: Haley Culpepper
Dan Burke Percussion Memorial Award: Isabell Liao
Gene Herring Scholarship Recipients: Linzi Garcia & Aaron Bradford
Blue Knight of the Year: Sarah Pichardo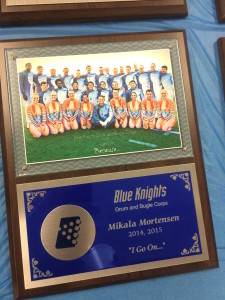 Age-Outs
After the awards presentation and closing remarks from Mark Arnold, several Blue Knights alumni–Jordan Helwerda, Ethan Goddard and Ricky Grasso–recognized 29 age-outs who completed their DCI marching career this season:
Will Allred (2013, 2014, 2015)
Joey Arteaga (2014, 2015)
Jordan Barden (2014, 2015)
Nick Bedard (2015)
Daegan Blood (2014, 2015)
Bridget Bott (2015)
Aaron Bradford (2012, 2013, 2014, 2015)
Cameron Brown (2012, 2013, 2014, 2015)
Evan Chivers (2013, 2014, 2015)
Fumiya Kai (2014, 2015)
Adam Gammons (2014, 2015)
Austin Horton (2013, 2014, 2015)
Anthony Lederhos (2015)
Patrick Manning (2015)
Jamey Morgan (2012, 2013, 2014, 2015)
Mikala Mortensen (2014, 2015)
Sarah Pichardo (2011, 2012, 2013, 2014, 2015)
Joseph Real (2014, 2015)
Michael Rivera (2012, 2014, 2015)
Christopher Sampson (2014, 2015)
Evan Silloway (2011, 2012, 2015)
Emily Sobieralski (2014, 2015)
Cindy Stapleton (2012, 2013, 2014, 2015)
Ira Stecher (2015)
Alberto Vinado (2014, 2015)
Luke Vogt (2014, 2015)
Julian Willis (2014, 2015)
Camille Wilson (2015)
Miles Hartman (2013, 2014, 2015)