DENVER, CO – The Blue Knights Drum & Bugle Corps is excited to announce the return of Jeff Ausdemore as the Percussion Arranger for the 2023 season!
Jeff Ausdemore serves as President and Co-Founder of Stryvemind.com, a revolutionary online music education platform that impacts students and educators around the world. This venture serves student musicians, music educators and administrators in many capacities, including a world class private lesson faculty, educational consulting, as well as the Stryve Academy. Prior, Mr. Ausdemore was the Director of Music at Grapevine-Colleyville's iUniversity Prep. In this expanded role, Mr. Ausdemore oversaw all music curricula, including music theory, music history, music composition/arranging, as well as applied music for all primary and secondary level students. In addition, Mr. Ausdemore created the iMusic Club, a club dedicated to enriching the lives of all students enrolled at iUniversity Prep.
"Jeff comes back to the Blue Knights with a wealth of knowledge and a years of experience within both the marching arts and the greater music world," said Daniel Belcher, Director of the Blue Knights Drum & Bugle Corps. " We are so excited to have his unique artistry, experience, and educational prowess as we continue working to build the Blue Knights."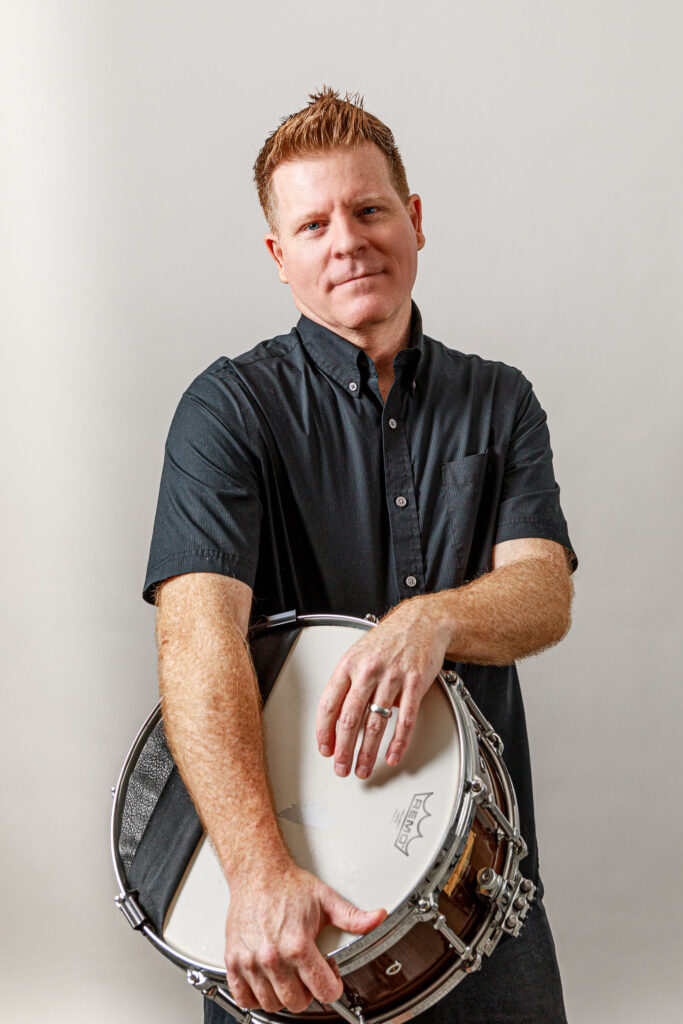 Prior to this post, Mr. Ausdemore served eleven years as the Director of Percussion Studies at Colleyville Heritage High School. In this role, Mr. Ausdemore served as the percussion coordinator, head of jazz studies, and co-director/composer/arranger of the Colleyville Heritage marching band.
Under Ausdemore's direction, the Colleyville Heritage High School percussion program flourished, gaining national notoriety through chamber music, guest artist concerts of all genres, recitals, and ensemble competitions. The percussion program has enjoyed competitive success at many levels, including the 2013 and 2014 gold medal for the North Texas Color Guard Association, as well as capturing the 2008 Percussive Arts Society Marching Percussion title. Other accolades include the Percussive Arts Society's "Call for Tapes" winners, the Percussive Arts Society's Small Ensemble Champions, the Plano Drum Line Competition marching percussion champions, as well as the Lone Star Drum Line Competition champions.
In Mr. Ausdemore's first year at CHHS, he launched the GCISD Percussion Club, expanding the students' musical education and enriching the lives of GCISD middle and high school percussion students throughout the district. The GCISD Percussion Club presented master classes, clinics, solo and ensemble performances by local and regional professionals throughout the north Texas area. The GCISD Percussion Club has produced a record number of students selected for the GCISD "Select Band", the Region 24 "All-region Band", the Region 24 "All Region Jazz Band", and the Texas "All-State Band". CHHS is proud to have produced several percussion students who have earned the national title for the Percussive Arts Society's solo champion on several different percussion instruments as well.
Mr. Ausdemore has featured this unique pedagogical model at many state music conventions throughout the United States, including several Texas Music Educators Association Conventions.
In addition to his teaching duties at Colleyville Heritage High School, Mr. Ausdemore served as the percussion arranger and caption head for the Blue Knights Drum and Bugle Corps from 2006 through 2010. During Ausdemore's tenure at the Blue Knights, the percussion program produced several individual solo championships, ensemble championships, and a strong reputation for excellence, placing in the elite "top 12" in the Drum Corps International Championships consistently. 
Prior to his appointment to CHHS, Mr. Ausdemore taught at the University of Texas Arlington, as adjunct professor of percussion. In this role, Ausdemore served as the percussion arranger/assistant director of the UTA Marching Band, taught percussion pedagogy/techniques classes, assisted the UTA percussion ensemble, and maintained a full private studio as well. 
Mr. Ausdemore's performance background includes section and solo performances with several orchestras, wind ensembles, and percussion ensembles throughout the midwest and southwest United States, including the principal percussionist with the Texas Wind Symphony, and principal percussionist/assistant principal timpanist with the Las Cruces Symphony. 
In 1995, Ausdemore recorded/toured with Benson Records recording artists Nouveaux, compiling three #1 singles on the CCM music charts between 1995 and 1999. While living in Nashville, Ausdemore participated in many recording sessions, both commercial and proprietary albums. 
As a clinician, Mr. Ausdemore has given performances, clinics and workshops throughout the U.S. at several Percussive Arts Society's "Days of Percussion", including Arizona, Tennessee, New Mexico, California, Arkansas, Utah, Colorado, the Percussive Arts Society International Convention (Columbus, Ohio 2002, Indianapolis Indiana 2009, 2011) and the International Horn Society Convention (Beijing, China 2000). Ausdemore has served as a featured clinician at the 2009 and 2011 Texas Music Educator's Association Conference as well. 
In addition to teaching/performing, Mr. Ausdemore has composed/arranged, instructed and consulted with numerous Drum Corps International drum and bugle corps, college marching bands, and high school marching bands throughout the United States, including the Blue Knights, Cavaliers, Phantom Regiment, Limited Edition, Northern Aurora, and Southwind. 
Ausdemore has served as music director/composer for the Insignia Independent Percussion Ensemble. The Insignia Independent Percussion Ensemble participated in the Winter Guard International circuit locally and regionally, winning the 2004 NTCA gold medal in their inaugural season. 
As a composer, Mr. Ausdemore has contributed original works for piano, instrumental guitar, contemporary multimedia, percussion and choir, percussion solo instruments, percussion ensemble, as well as wind ensemble and marching band. Several ensembles have commissioned and premiered Mr. Ausdemore's works on recordings, concerts, the Music for All national festival, the Interlochen Fine Arts Academy summer camp, the 2021 Midwest Clinic. In addition, Mr. Ausdemore will have two new commissions performed at the 2022 Percussive Arts Society's International Convention.
Jeff Ausdemore is proud to endorse and serve as a clinician for Dynasty/Bergerault Musical Instruments, Zildjian cymbals, Remo drumheads, and Pro Mark sticks and mallets. The D'Addario/Pro Mark corporation released the Jeff Ausdemore "signature series" snare drum sticks in early fall of 2009. 
Mr. Ausdemore's professional affiliations include adjudication roles for Drum Corps International, Winter Guard International, Bands of America, a percussion committee member for the Percussive Arts Society, the Texas Music Educator's Association, the Texas Bandmasters Association, and the American Society of Composers, Authors, and Publishers, and currently serves as the current Vice President of Percussion and Winds on the executive board of the North Texas Color Guard Association.
Mr. Ausdemore holds a Master of Music degree with distinction from New Mexico State University (2002), as well as Bachelor of Music degree with high honors from Belmont University (1999).
Jeff was recently inducted into the North Texas Colorguard Association's Hall of Fame in 2017 for his role as VP of Percussion and Winds, and his work and contributions to the circuit at large.
Jeff Ausdemore lives in Bedford, TX with his wife, Pam Davis Ausdemore. In addition to Pam's pageantry background with the Bluecoats, Phantom Regiment, Blue Knights, Glassmen, and Southwind drum and bugle corps, she has also performed with the Pride of Cincinnati and instructed many performing groups, including Cypress Independent winterguard, Beechwood, Dixie Heights, Seguin, Colleyville Heritage, Keller, William Mason and Prosper High School. Pam is a gifted artist and teacher at Sendera Ranch Elementary School in Northwest ISD.