Blue Knights Announce Design and Education Leadership for 2020 Season

DENVER – The Blue Knights Drum & Bugle Corps has a long history of innovative design and musically driven programing. We are a drum corps unafraid to take risk in creating an environment where our members thrive as they create the unique Blue Knights' "voice".
From the likes of George Zingali, Jim Prime, Ralph Hardimon, Rob Billings, Marc Sylvester, Mike Jackson, Kevin Shah, Tommy Keenum, Jay Murphy and Jay Bocook, the Blue Knights have always attracted the most forward thinking and creative minds in the activity to join our members in bringing our voice to life. These are individuals who take artistic risks. Our culture encourages this, and in 2020 the Blue Knights will continue to build upon this enduring principle.
Today we highlight our Design and Education Leadership with Chad Heiny as Program Coordinator and Austin Greene as Program Facilitator. As Program Coordinator, Chad Heiny will lead the design team's efforts in creating the innovative and creative productions the Blue Knights are known for. And as Program Facilitator, Austin will take lead in implementing the goals of the program and coordinating the curriculum among the educational faculty while remaining a member of the visual instructional staff.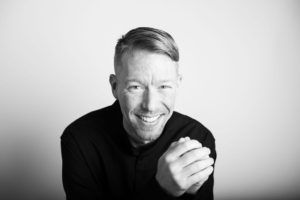 The Blue Knights are pleased to announce the return of Chad Heiny as Program Coordinator for the 2020 season. Chad, born in Williamsport, Pennsylvania, is a freelance musician and educator residing in the Greater Pittsburgh Area. A prolific and regularly commissioned composer, Chad has created music for an eclectic collection of ensembles and performers across the globe. His works are published by both Tapspace Publications and C. Alan Publications. He also holds positions as Music Editor with Tapspace Publications, Program coordinator for the Blue Knights Drum & Bugle Corps, Percussion Arranger for the Hebron High School Marching Band, and adjudicator for Winter Guard International.
Chad has been a passionate contributor to the pageantry arts since 1999, and prior to his current role at the Blue Knights, he arranged, coordinated, or consulted for several DCI World Championship Finalists including The Cadets, Spirit of Atlanta, Boston Crusaders, and Glassmen. An acclaimed percussion arranger, wind arranger, and program coordinator for high school and collegiate marching bands across the country, Chad's work throughout the fall has won the hearts and minds of students, staffs, fans, and adjudicators. Accolades include many BOA Regional Championships, three silver medal finishes in Class AA at BOA Grand Nationals, and several state championship performances. He can also be seen walking across Heinz Field on game days as Creative Consultant for the Pittsburgh Steeline.
Chad earned a Master's Degree in Music Performance from Louisiana State University and Bachelor's Degrees in Music Education and Music Performance from Indiana University of Pennsylvania. He is a member of both the Percussive Arts Society and ASCAP, and is a proud endorser of Majestic Percussion, Innovative Percussion, and Remo Drumheads.
Former Blue Knights Artistic Director, Kevin Shah, adds, "Chad Heiny is a brilliant designer and educator with a uniquely exceptional talent for selfless leadership. His accomplishments as a composer combined with his years of judging at the highest levels along with his motivational educational style give him a really special voice that make him one of the best people I have had the honor to work with."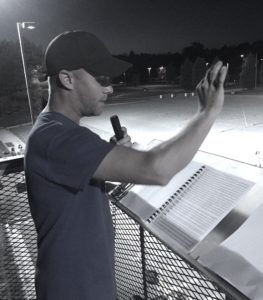 The Blue Knights are pleased to announce the addition of Austin Greene as Program Facilitator for the 2020 season. Austin is a professional visual designer and educator from Raleigh, NC. He is regular demand as adjudicator throughout America for Bands of America, Winter Guard International, and numerous local circuits. Austin joined the instructional staff for Blue Knights in 2019 after serving as a visual judge for DCI. Austin previously instructed The Cadets Drum and Bugle Corps from 2012-2015 and served as Visual Caption Head from 2014-2015.
Previously, Austin was Director of Bands at Concord High School in Concord, NC, and Director of Bands and Performing Arts Department Chair at Durham School of the Arts. In 2010, he was hired as an adjunct instructor at the Dublin Institute of Technology's National Conservatory of Music in Dublin, Ireland. He has served for 10 years as a program consultant and clinician for the Bands of America Grand National Finalist Kennesaw Mountain High School Marching Band. Austin attended Western Carolina University where he earned his Bachelor of Science Degree in Music Education in 2003. He went on to earn his Master of Music in Conducting Degree from the University of Connecticut in 2006. He is in regular demand as a designer, clinician, and adjudicator throughout the United States and abroad.
---
∴ Come home to the Blue Knights in 2020! Click the button below to register for a BKXperience-Audition! Clinic: