DENVER – The Blue Knights Drum & Bugle Corps has a long history of innovative design and musically driven programing. We are a drum corps unafraid to take risk in creating an environment where our members thrive as they create the unique Blue Knights' "voice".
From the likes of George Zingali, Jim Prime, Ralph Hardimon, Rob Billings, Marc Sylvester, Mike Jackson, Kevin Shah, Tommy Keenum, Jay Murphy and Jay Bocook, the Blue Knights have always attracted the most forward thinking and creative minds in the activity to join our members in bringing our voice to life. These are individuals who take artistic risks. Our culture encourages this, and in 2020 the Blue Knights will continue to build upon this enduring principle.
"We are thrilled to continue the tradition of innovation, excellence, and entertainment with the addition of Derrick, Chris, and Christian for the 2020 season and beyond," said Jordan Helwerda, Assistant Director of the Blue Knights Drum & Bugle Corps.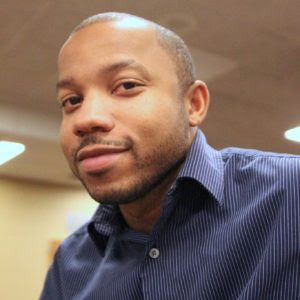 The Blue Knights are pleased to announce Derrick Shannon as the Battery Composer/Arranger and Percussion Caption Head. Derrick is a percussion specialist originally from the Chicago-land area. He holds the Director of Percussive Arts position at Plainfield Community Schools who were the 2018 WGI PSA Champions in his first year with the program. He started Percussive Soundscapes which is a company that offers a variety of services to the marching arts community including custom arrangements for band and winter percussion ensembles. He taught at Ball State University, judges during the weekends and consults with numerous groups across the country.
Derrick marched seven summers of drum corps with groups such as the Phantom Regiment and Cavaliers, in both the battery and front ensemble. Afterwards, he became the Percussion Caption Head for the Phantom Regiment Drum and Bugle Corps and later the Percussion Coordinator and Battery arranger for the Madison Scouts. Derrick is also a Creative Director for 317 Performing Arts which supports the WGI Independent World group Veritas. He received his Bachelors in Music Education at the VanderCook College of Music and his Master's in Music Technology at Indiana University-Purdue University Indianapolis. Derrick proudly endorses Innovative Percussion, Pearl/Adams, Remo, and Etymotic. He currently resides in Plainfield, Indiana with his wife Kayla, two daughters Miyah and Olivia as well as his dog Max.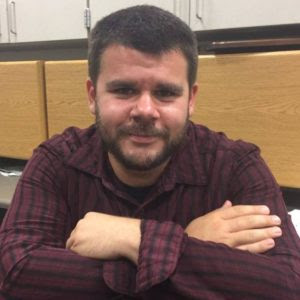 The Blue Knights are pleased to announce Chris Murphree as the Front Ensemble Composer/Arranger and Front Ensemble Coordinator. Chris Murphree is currently a freelancing percussionist in the Indianapolis area, primarily working with Brownsburg and Plainfield High Schools.  He served as an arranger and teacher to both schools for the 2018 and 2019 seasons.  Prior to working with these programs he served as an arranger and teacher for the Goshen High School Percussion Ensemble from 2015-2017.  He received his Master's degree from Indiana University, and his Bachelor's degree from Middle Tennessee State University, where he also served as an Adjunct Professor of Percussion in 2014.
Chris marched with several groups including Spirit of Atlanta, The Cavaliers Drum and Bugle Corps, and Music City Mystique.  He served as a front ensemble technician for the Troopers, Phantom Regiment, and Blue Knights throughout his teaching career.  He has arranged for several groups including Madison Scouts, Music City Drum and Bugle Corps, Orange County Independent, Tri-City Percussion, and various other programs throughout the country.  He is one of the Creative Directors for 317 Performing Arts which fields the Independent World Group Veritas.  Chris proudly endorses Innovative Percussion. He currently resides in Plainfield Indiana with his pet cat Jack.
The Blue Knights are pleased to announce Christian Good as Sound Designer and Audio System Designer. Cristian is a well known expert and consultant in the marching arts audio community. Much of his experience was gained while serving as The Cavalier's audio engineer during the 2014-2016 seasons. He has been involved in the WGI activity both designing and consulting for multiple indoor percussion groups around Indiana over the years. Christian has shared his extensive knowledge of the audio concepts and techniques used in the marching arts activity as the marching audio clinician at the Music for All Summer Symposium for the past several years.
Cristian is in regular demand as an electronics designer and system designer for schools both Indiana and throughout the United States.  He is currently the electronics designer for Bands of America Grand National Finalist and ISSMA medalist Homestead High School (IN) as well as Carroll High School (IN) who is an ISSMA State Finalist as well as IPA medalist. Cristian currently resides in Ft. Wayne, Indiana with his wife and pets where he works as a sales engineer at Sweetwater Sound while continuing to be involved in many outside projects in the marching activity.
Return each day to AscendPerformingArts.org this week for more announcements on the Blue Knights team.
---
∴ Come home to the Blue Knights in 2020! Click the button below to register for a BKXperience-Audition! Clinic: