Blue Knights Annual 2015 Send-Off Show

It's time! The Blue Knights are wrapping up their all-day "spring training," and gearing up to start their competitive tour.
Join us on Friday, June 12th, to get a first look at the 2015 program, "Because…" The corps will be suiting up for a 8:00 pm performance at the stadium at Adams City High School for one last "home" performance before heading out on their journey across the country.  Warm-up "in the lot" will begin at 6:30pm for all sections.
This is the last chance to wish your favorite Knights luck before they leave, and they have some surprises in store! You're not going to want to miss this!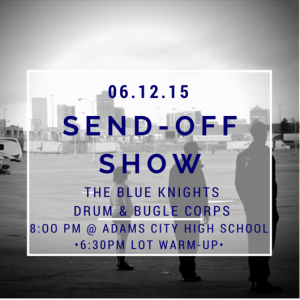 Details
WHEN: Friday, June 12, 8:00 pm (warm-up at 6:30pm in the lot)
WHERE: Adams City High School
7200 Quebec Parkway, Commerce City, CO 80022
WHAT/WHO: The Blue Knights' first uniformed performance of "Because"
COST: FREE
*In the event of rain, the Blue Knights will perform a standstill of their 2015 show in the gym at 8:00 pm.