DENVER, CO – Ascend Performing Arts is pleased to announce the promotion of Daniel Belcher to Assistant Director of the Blue Knights Drum & Bugle Corps.
Daniel Belcher, currently the Director of Member Experience with the Blue Knights Drum & Bugle Corps will now be stepping into the role of Assistant Director where he will be working side by side with Corps Director Jordan Helwerda guiding the staff, programming, and student educational programs of the Corps.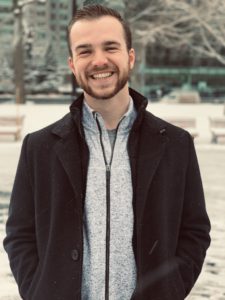 "Daniel has proven himself to be a leader and a change maker within our organization for years" stated Corps Director Jordan Helwerda. "Watching Daniel grow and mature over the years has been a true honor. There is no one better poised to be a curator of our beloved organization than Daniel. Daniel's expertise, intelligence, respect and awareness make him a perfect fit for this role."
Daniel served as a drum major for the Blue Knights from 2016 to 2019, and has quickly returned to continue building upon his influence from his time as a member of the corps. In 2019, Daniel was awarded Blue Knight of the Year for his work on positive organizational culture and enhanced member treatment, in addition to being named the first recipient of the Don Warren Community Service Scholarship. Daniel is currently studying to become an electrical engineer.
"The positive, safe, developmental, and enjoyable experience of our performers is at the absolute foreground of what I consider this activity to exist for," said Daniel. "I am beyond thrilled to be tasked with nurturing, optimizing, and innovating the life-changing experience we are able to offer to so many incredible young adults each year."
Please join us in welcoming Daniel Belcher as the new Assistant Director of the Blue Knights Drum & Bugle Corps!